The Clippers' miracle season
Hang on for a minute...we're trying to find some more stories you might like.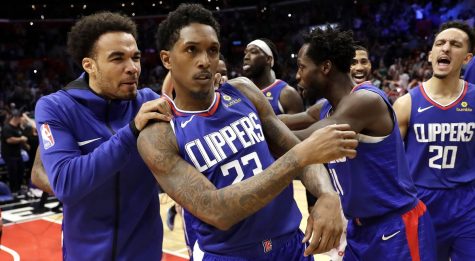 As of right now, the teams in the NBA Playoffs that are still standing are battling hard, with each series between them being decided by razor-thin margins and late-game heroics. Players like the virtuoso playmaking center Nikola Jokic, deadly scorer and defender Kawhi Leonard and sharpshooter Kevin Durant have been going nuclear just to keep their teams alive while stars like Ben Simmons and Steph Curry have been faltering under the air-tight defensive schematics of their opponents. However, when it comes to the off-season repercussions of this playoffs, one team that's already been eliminated from championship contention has emerged as the definitive victor.
After a tumultuous few years during their infamous "Lob City" era, which featured several promising teams flaming out early in the playoffs, the Los Angeles Clippers decided to restructure themselves completely in 2017, starting off by relieving general manager/head coach Doc Rivers of his managerial duties and allowing him to focus on coaching. Then, they hired legendary general manager Jerry West, who aided the Lakers in winning 5 championships, as a consultant. They traded away aging point guard Chris Paul, the injury-prone Blake Griffin, and the disgruntled DeAndre Jordan, all important parts of their "Lob City" teams, over the span of a year and a half. While the trades baffled many NBA fans at the time, Rivers and West's goals became apparent.
The Clippers, despite trading away many key players, managed to create a competitive and hard-nosed basketball team that emphasized high effort and teamwork without a definitive star player. They were led by all sorts of odd players, with rookie Shai Gilgeous-Alexander taking over playmaking duties and backcourt partner Patrick Beverley taking care of things defensively. On the bench, sixth man Louis Williams had a career year, leading the team in scoring and taking all sorts of clutch shots to help lead the team to 48 wins. Montrezl Harrell, after languishing on the bench with the rockets, embraced his role in the Clippers' egalitarian offense, also having a career year while averaging 16 points and 7 rebounds with good defense.
The end result of this new system was a first-round exit, but not just any first-round exit. The Clippers went up against the juggernaut Golden State Warriors in a series nobody expected them to win a game in. However, with their incredible play, they pushed the Warriors to 6 games in a best-of-7 series and even came back from being down 31 in one game, drawing attention to their process and high level of effort.
The Clippers couldn't have picked a better time to show out and perform as they did. Notable free agents at the end of the season include the aforementioned superstars Kawhi Leonard and Kevin Durant, along with several stars like Klay Thompson and Jimmy Butler, who have all expressed interest in Los Angeles as a free agent destination. While they took a risk with their complete rebuild, it looks like the Clippers' efforts are going to pay off.