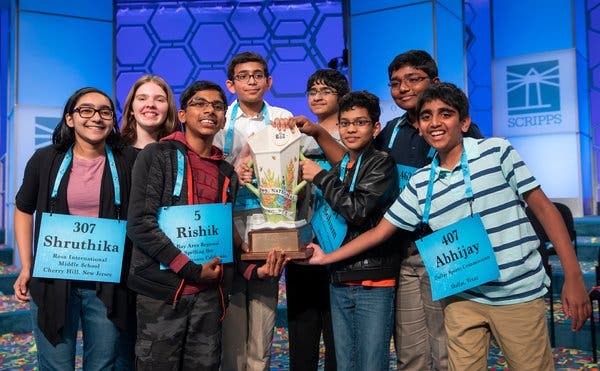 On May 30, 2019, the Scripps National Spelling Bee handed out champion prizes to the largest group of first place winners— 8 students walked home with $50,000 and their respective trophies. After 20 rounds and 47 words, the competition board claimed that they ran out of words that would challenge the contestants enough. The list of the winners, their place of origin, and their victory words are as follows:
(New York Times) —
Rishik Gandhasri, 13, of San Jose, Calif.: auslaut.
Erin Howard, 14, of Huntsville, Ala.: erysipelas
Saketh Sundar, 13, of Clarksville, Md.: bougainvillea.
Shruthika Padhy, 13, of Cherry Hill, N.J.: aiguillette.
Sohum Sukhatankar, 13, of Dallas: pendeloque.
Abhijay Kodali, 12, of Flower Mound, Tex.: palama.
Christopher Serrao, 13, of Whitehouse Station, N.J.: cernuous.
Rohan Raja, 13, of Irving, Tex: odylic.
To prepare for the Spelling Bee is almost synonymous with studying for the SAT/ACT. Instead of the Princeton Review or Khan Academy, Merriam Webster or the Oxford Dictionary is what sits on the desks of these students who commit their will and energy into this seeming sport. All of the winning contestants report delegating over 3 hours of work and studying over the weekends, depending on their homework load, along with an average of an hour on the weekdays after returning home from school. It is often difficult to imagine young students with such discipline and motivation—at least, seeing time being cut out of their recreational time.
This year, 7 out of 8 of the winners are Indian Americans. To defer from the dialogue of Asian American stereotypes and the model minority, this success is one that these people create for themselves by true and genuine hard work. In many of these cases, parents are often the guiding force to success for their children. And in the lives of these Indian Americans, their parents are successful and intellectual models that apply the same investment of greatness. They want their children to do and accomplish greatness— concepts that they feel is parallel with intellect and wit. Spelling Bees are popular within Asian culture
But does this pluralistic championship group signify something larger than voluminous and miraculous coincidence?
The name, "Generation Z" has been tainted in the emergence of technology and the way devices and social media have dominated the lives of many individuals. But examining this hefty population on this scale of lifestyle, there has undoubtedly been others who have achieved unmeasurable success, paving their names in history and legacy. Of the Gen Z-ers who are so technologically addicted, it is parents and adults who are putting the devices; the iPads and iPhones in their hands. Contrarily, it is parents who, too, put books and pencils in the hands of their children. In this scope, how natural, really is it that these students are experiencing success and what are the true manifestations of their motivations?
Meanwhile, we salute to the cream of the crop, the masters of the English language and proprietors of your own futures. Congratulations.