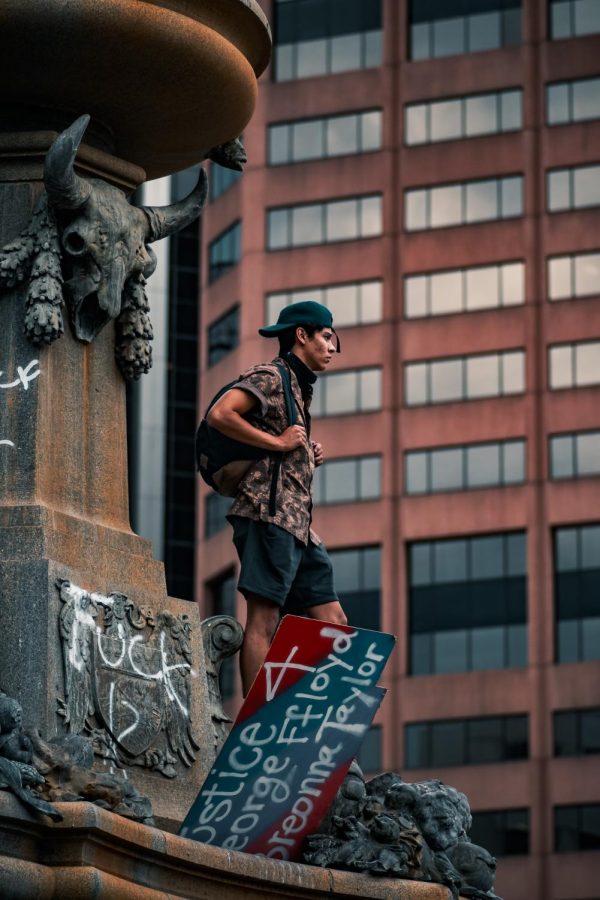 10 months after George Floyd was killed, Derek Chauvin, the police officer charged for Floyd's death, is going to trial. He is facing charges of second-degree murder, third-degree murder, and second-degree manslaughter. Chauvin has pleaded innocentto all charges. 
Key People:
George Floyd: George Floyd was an African American man who was killed when police officers were called over an alleged $20 counterfeit bill.
Derek Chauvin: The police officer who was seen kneeling on George Floyd's neck for 9 minutes and 29 seconds, which led to his death.
Eric Nelson: Chauvin's defense attorney is Eric Nelson. Nelson began practicing law in 2001 and is a member of the Minnesota Police and Peace Officers Association (also known as MPPOA). He has defended other police officers in "critical incidents and job-related investigations," according to MPPOA. 
Peter Cahill: The Judge assigned to Chauvin's case. He has 30 years of judicial experience.
Keith Ellison: Minnesota Gov.Tim Waltz, decided to give the Chauvin case to former congressman, Keith Ellison. Ellison was the first Muslim American elected to congress and is currently Minnesota's attorney general.
Matthew Frank: Frank is the presenting prosecutor on the case and has over 20 years of prosecuting experience.
Jerry Blackwell: The third prosecutor on the Floyd case, and is CEO and chairman of Blackwell Burke P.A.
Trial highlights:
March 29th, Trial Begins
Prosecution delivers opening statement
Time spent on knee corrected to 9:29, not 8:46
"9-2-9, the most important number in this trial"
"Derek Chauvin betrayed his badge…"
Defense gives opening statement
"Chauvin was doing what he was trained to do…"
"The use of force is not attractive, but it is a necessary component of policing"
"Battle of experts – what was the true cause of death"
"No tell-tale signs of asphyxiation found…"
Nelson inferred that the use of drugs compounded a medical condition that caused Floyd's death
Witness taking videos:
"Floyd was not resisting arrest"
911 dispatcher
Voiced her concerns to Sargent about excessive force.
 Ms. Frazier:
On the scene, I felt sad and regretful for not physically helping Floyd.
"I have black friends. I look at how that could have been one of them."
Donald Williams II:
MMA fighter
When asked why he called 911 answered, "I believe I witnessed a murder."
 Police Body camera footage introduced to Jurors
In a call to a supervisor, "We just had to hold the guy down," Mr. Chauvin can be heard saying, adding that Mr. Floyd would not stay in the back of a police car. "He was going crazy."
Chauvin's supervisor
"Should have stopped using excessive force earlier" 
Police Chief
Chauvin's actions were "completely unnecessary"
Lt. Richard Zimmerman
Pulling him down to the ground face down and putting your knee on a neck for that amount of time, it's just uncalled for,"
Dr. Bradford T. Wankhede Langenfeld
The Doctor who arrived at the scene
"Mr. Floyd appeared to be dead" when he arrived 
Found methamphetamine and fentanyl in Mr. Floyd's system.
Officer Nicole MacKenzie
Chauvin was trained in CPR and first aid
Officers may have believed that substances in Floyd were causing "excited delirium" 
Sgt. Jody Stiger
Officers may have used pain reduction techniques 
"I could hear the handcuffs becoming tighter as [Floyd] moved"
Special Agent James Reyerson
"We started our investigation right away"
50 agents from the Bureau of Criminal Apprehension were involved in the investigation, as well as up to 26 FBI agents.
Defense asked Reyerson if at one point in the bodycam footage Floyd had said "I ate too many drugs." Reyerson replied by saying "It sounds like it."
Forensic scientists found pills containing methamphetamine in Floyd's car