"Taste is a sharpened eye for the beautiful, the interesting, and the unusual, coupled with a talent to apply all of these to one's life," said founder of the New York Fashion Week, Eleanor Lambert. This sharpened eye drives the unlimited creativity and expression in this fashion week.
New York Fashion Week is a remarkable event of nine days, teeming with pure fashion culture, stunning models, breathtaking collections, diverse styles; everything beauty and fashion. This year is the 73rd year of New York Fashion Week with an average of 38 shows daily with approximately 232,000 people in attendance. Thus, a perfect environment for prestigious designers to glory in their accomplishments and growing designers to create prominence.

Day 1: Cinq á Sept Spring 2017
Infusing contemporary elements into their collection is a task Cinq á Sept intends to achieve, and achieve it does. Cinq á Sept transforms simply designed pieces into elaborate artwork with textures, voluminous layers, and accents of color. Every detail demands flare and elegance.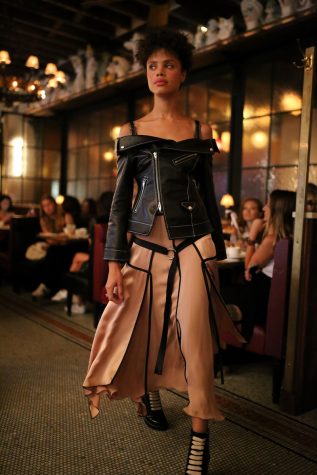 Day 2: Brock Collection Spring 2017
Throughout the spring collection, only minimal amounts of materials are used, yet each piece is more elaborately sculpted than the previous. Brock Collection molds simplicity using a variety of texture and material. Glossy silk, feminine floral patterns, and petaled ruffles create a timeless elegance.

Day 3: Kate Spade Spring 2017
Kate Spade is a designer with the spirits of a lively artist. This spring, feminine expression is essential through elaborate floral designs and varying sleeve cuts including bell, cuffed, trumpet, and dolmen cuts; the Kate Spade spring collection has it all. Corresponding clutches contribute to these lovely pieces by adding simple elegance.

Day 4: Alexander Wang Spring 2017
Behold, one of the most reputable designers dive headfirst into spring. Alexander Wang has altered the spring look using statement straps and retro designs. Wardrobe basics, such as basic button downs, are shortened and layered over straps, and crop tops are manipulated with flare and texture.

Day 5: Altuzarra Spring 2017
Altuzarra uses dramatic patterns to accent sophistication and energy. Various accessories, such as the statement hoops and exaggerated belt, are worn to amplify couture and texture and draw attention to bodily curves. Layered materials are a contemporary trend and an eye-catching method of blending color and texture to simple outfits.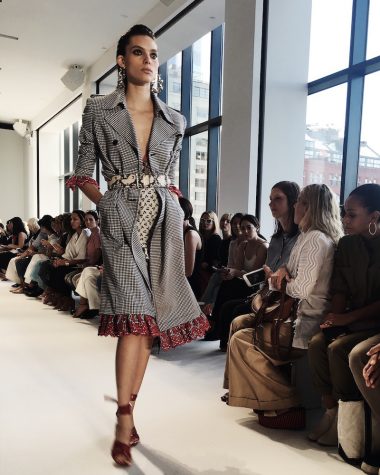 Day 6: Carolina Herrera Spring 2017
The exhibit of the Carolina Herrera Spring collection defines modern with delicate sheer fabrics and eloquent patterns. Crisp ruffles and a flowing silhouette are most definitely a classic show-stopping trend.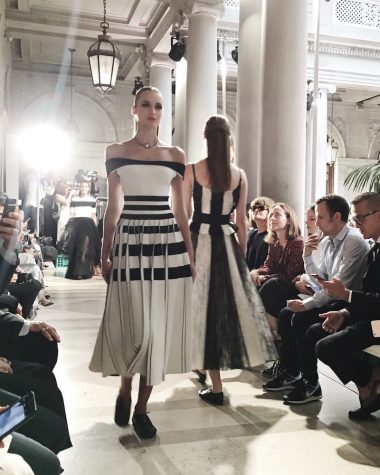 Day 7: Coach Spring 2017
If there is one thing Coach does well, it is keeping the audience on the edge of their seats. This collection uses a variety of vintage and retro patchwork to tailor a rock and roll trend. Metallic details and jagged material are essentials to each piece. As the venue, the rustic stacked cars are just the icing on the cake. They complete the refined, grunge vibe in the most perfect way.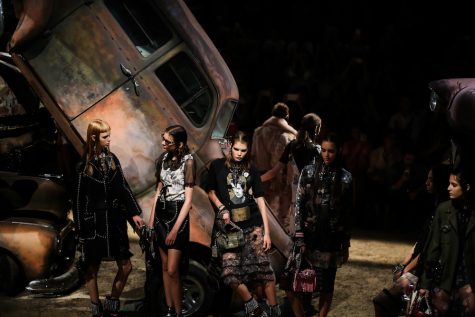 Day 8: Ralph Lauren Spring 2017
Ralph Lauren, another well established company along the East Coast, initiates spring with minimal, monochrome trends. Outdated vogue, such as the recurring studded belt, fringe details, and jeweled straps, create an effortless, flattering look. After all, no one does it better than Ralph Lauren.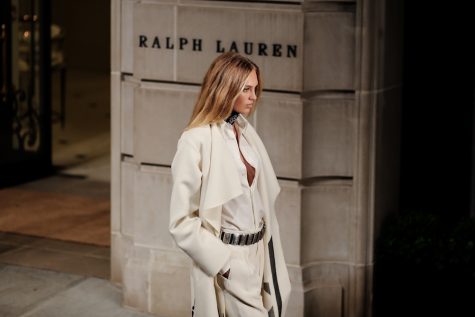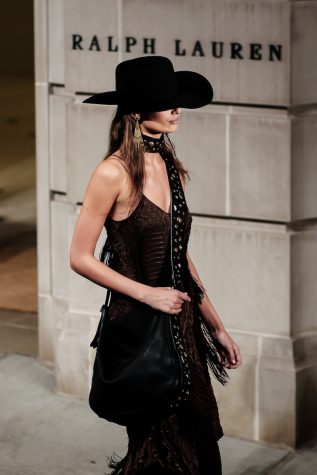 Day 9: Marc Jacobs Spring 2017
What better way to end New York Fashion Week than to end it with a bang? Marc Jacobs' spring collection screams attitude and grunge. Statement materials and fitted low cut dresses create dramatic elements. Metallic platform heels and rising knee socks are the best way to kick off spring (pun intended).
All photography courtesy of Drew Scott