The anniversary of the iPhone
Celebrating the 10 year anniversary of the iPhone draws attention to the use of smartphones in our society.
Hang on for a minute...we're trying to find some more stories you might like.
Just an ordinary Tuesday on January 9 in 2017, 10 years before this marked the start of a new era. Apple's then-CEO and founder, Steve Jobs, announced the start of Apple's "three in one" device. Combining features that had previously only been a part of three different devices, the iPhone enabled people to take advantage of a widescreen iPod with touch controls, a revolutionary mobile phone, and a breakthrough internet device.
The introduction of the iPhone brought many new cultural norms to our society- the widespread use of the word "app", the App store, touch screen technology with on-screen keyboards, constant access to internet, and a revived industry for progressive smart phones. Although previous to the iPhone there were smartphones such as the Blackberry, the touch screen feature of the iPhone set it apart.
Over the past 10 years, many of the things that we see as normal and necessary in everyday life came to be. But is it really necessary to have a smartphone? In a survey with 100 Oakton students, 91 said yes. However, there were conflicted responses when asked if we really need the increasing role of technology in our lives. Many students responded with a resounding yes. Junior Joanna Moffit stated, "Some teachers literally tell you to use smart phones- it would be almost impossible to survive in high school without a smartphone." Many teachers do expect their students to own and use a smartphone in class, asking their students to log onto websites like Kahoot! to participate in class.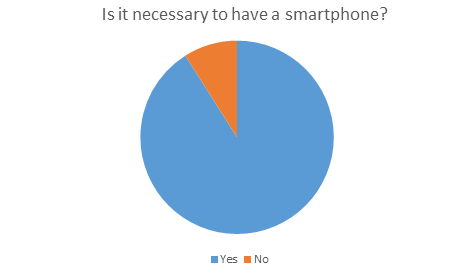 Others paused more before jumping to conclusions, taking into consideration that with people spending more time with technology, it cuts back on face-to-face contact. "Having a smart phone can be helpful, but it's also a little scary," said senior Megan Reilly. "There's definitely a fine line that shouldn't be crossed, but I don't know what that line is."
While some agree that it's necessary to have a phone, a smart phone is not always needed. Will you die without food or water? Yes. But will you die without a smartphone an arm's length away? Probably not.
As technology continues to advance, no one quite knows what to expect next. One sophomore girl stated that having a phone that doesn't crack would probably be the best thing that could happen. Sophomore Erin Lyons stated, "Something like the Hannah Montana z phone would be cool."
With the increasing role of technology, there are more opportunities to do great things as well as detrimental actions online.  Freshman Logan Zimmerman stated, "Idiots will do stupid things with any technology that comes up," speaking to the point that it doesn't matter if it's the first generation iPhone or the new iPhone 7, there will always be people who will use the most advanced technology for non-beneficial purposes.
In 2016, Apple announced that over one billion iPhones had been sold. In regards to the Oakton population, 98 out of 100 students surveyed owned a smart phone. However, 90 out of the 98 students owned iPhones- that's almost 92% of people interviewed who own an Apple product. Over the course of only 10 years, the Apple iPhone has revolutionized the way everyone interacts in society, and what is seen as "necessary" to have.