Can YouTube TV take over cable TV?
How YouTube TV compares with cable TV and other streaming services
Hang on for a minute...we're trying to find some more stories you might like.
There was a time when the whole neighborhood would gather around the TV. The people were all in awe that the voices inside their radio now had faces that they could watch all day long. When TV were first getting popular in the late 1940s, they were expensive and commonly found in households. However, as the technology became more accessible, watching TV became a fun bonding activity people did with their family and friends. But that was about seventy years ago, and many things have changed. Masses of people do not try to fit together around the one small compact wooden box with an even smaller black and white screen. Now people either watch on on a sleek Tv rooted up on the wall or on their small phone screen. Now there are other options other than conventional cable TV and YouTube TV is one of them.
YouTube TV isn't the first company to compete against traditional cable TV. Netflix, Hulu Plus, and HBO Now are some streaming services that have gone against cable TV. People can watch movies and TV shows whenever, which seemed revolutionary in the early 2000s, but is now expected. TV streaming was first done by ESPN SportsZone when they streamed a live broadcast of a baseball game. But TV streaming didn't get popular until 2008,when Netflix pioneered the "Watch Now" feature. Before 2008 Netflix was a rental DVD rental service that later switched to a streaming service which popularized the company into popularity. Because of this, they had enough money to start producing their own original series, such as Orange is the New Black, House of Cards,and 13 Reasons Why. Netflix also take shows that have been canceled and carry them on for another season. If Netflix has so much power over cable TV and other competitors, how does YouTube TV think they have a chance?
Recently, more people are watching their favorite TV shows and movies with streaming services instead of cable TV. Rachel Ermalinskiln, 11, says "I prefer Netflix just because I can save stuff to my library and it can be however many shows. It also recommends things." Fortune reports that in 2015, 20.9% of households dropped their cable TV subscription. USA Today has found that about 64% of people also have a streaming service subscription. YouTube introduced YouTube TV because they wanted to create something where consumers can watch TV in the same place as other content, such as YouTube videos, for the younger generation. YouTube has released a study that states 35% of people age 18-34 use YouTube as their main source of video content versus 19% of the same age demographic with traditional cable TV.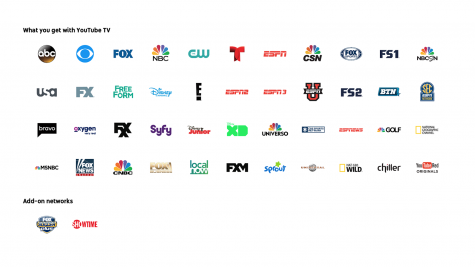 YouTube TV will start at $35 per month. It has 44 channels including ABC, The CW, Freeform, and Disney, and 12 channels including ESPN, CSN, and Fox Sports. Although the exact release date for YouTube TV is not know, it will be available in the coming months for US users. People will be able to set up to six accounts per house and stream up to three devices at the same time. But the biggest feature that differentiates YouTube TV with other services is the Cloud DVR. It will have unlimited DVR storage that uses iCloud to store your shows up to nine months for no extra cost. Consumers can also access originals from YouTube Red, which is a service released in October 2015 for $14.99 per month that offers access to originals, no ads, and offline streaming. But YouTube Red hasn't been doing well with only 11% of YouTube users purchasing it.
There will also be a YouTube TV app dedicated to their features. Direct customer service will also be available on the app because YouTube has noted the lack of good customer services from other TV companies. With all these features that combine cable TV with streaming TV, will it sell to the public? Ermalinskiln says while she is open to new products, she most likely won't use YouTube TV. " No [it doesn't sound interesting] since I do have both Netflix and cable and it would be more expensive", said Ermalinskiln.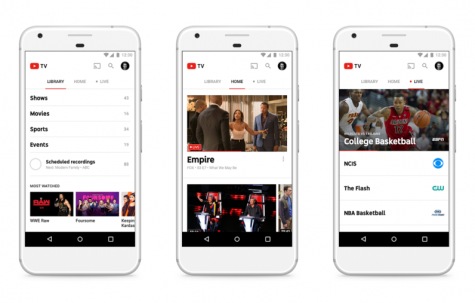 We never really know how well a new service will do. But with YouTube TV's new interesting idea of combining cable TV and streaming services, it seems it will be extremely successful especially with millennials. The 44 channels, Cloud DVR, YouTube Red originals will attract many customers.

Loading ...