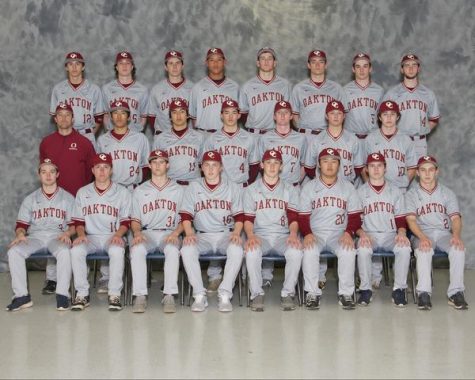 Oakton and Madison have a long standing rivalry and every year they battle it out for Vienna domination. The Vienna in challenge is where Oakton and Madison battle it out in every spring sport to see who is better. This year the main attraction was the baseball game because Oakton baseball is ranked 10th in the state and Madison is ranked 3rd in the state. This game wasn't just important for the schools. It was also important for the players because there were definitely college  scouts there watching the juniors play. This game was extremely important to Oakton because Oakton and Madison are rivals and Oakton's players can get scouted.
Oakton and Madison have a long standing rivalry. It is not just baseball that Oakton and Madison have an intense rivalry in. Football is an even larger rivalry and it escalated earlier this year when Madison broke Oakton's nine year winning streak against Madison. For baseball the rivalry is still very big. Coach Mark "Pudge" Gjormand, the Madison head coach is very famous throughout the local baseball community and many Oakton players and coaches would like to put it to this famously amazing coach. Oakton is not accustomed to doing this though because madison wins almost every year. Even some great players have never been able to beat Oakton. Chad Carroll who played for Oakton and played division one baseball was never able to beat Madison in his two years at Oakton.
Another reason this game was important to Oakton is because Oakton's players can get scouted. Oakton is used to scouts especially in recent days with incredible players like Joe Rizzo, Ryan Davis, and Owen Lamon playing at Oakton. The Madison game is huge in this area due to the rivalry, but also because Oakton is the tenth best team in the state and Madison is third in the state. Scouts come from all over the place to see this game and scout players from both teams. For Oakton most scouts would be coming to see Eric Lingbach, Jared Kimball, and Seth Richards. These are the three best players on Oakton who are still able to commit to a college. This was one of the biggest games of the year for Oakton, but it was also extremely important for players trying to show their skill in order to commit to a college.
The Oakton Madison Game started out as a pitching showcase. With Owen Lamon on the mound for Oakton and a skilled sophomore pitcher on the mound for Madison everyone thought it was going to be a low scoring game. Then after two innings Coach Janis brought in Jared Kimball to pitch. He pitched well his first inning, but he struggled in his second inning and he loaded the bases. Janis then brought in Julian Heitman, a freshman, who let up a double and Madison scored three runs on that hit. Over the next three innings Madison scored three more runs and things were looking bad for Oakton. Then came the bottom of the seventh, and with it hope for Oakton. With two runners on base Ethan Sullivan, a senior, came up to pinch hit. He had been struggling recently so it was a risky move for Coach Janis. Ethan Sullivan then hit a three run home run on the first pitch he saw. After a few more runners got on base things were bright for Oakton. Then Jared Kimball hit a deep fly ball to the center fielder that was caught ending the game.