It's Official!
Four Oakton students sign their National Letter of Intent on signing day
Hang on for a minute...we're trying to find some more stories you might like.
After school on November 8, four of Oakton's top athletes signed their National Letter of Intent. November 8 through November 15 is the first signing period of the year. Before this day, many high school seniors have been verbally committing to the college that they want to attend. However a verbal commitment is reversible. Now, after signing their National Letter of Intent, they are unable to play their sport at another college next year.   
At signing day, the athletes were surrounded with their family, friends, and teammates as they officially committed to their future college. Ashley Shepard (12) committed to the University of Vermont for swimming. Shepard first started dreaming of swimming in college at the age of six or seven when she saw older teammates on her summer swim team get committed to colleges. Shepard said,"it's really cool to achieve such a big goal that has been such a big part of my life for such a long time." Shepard ultimately decided to up north to the University of Vermont not only because of its gorgeous campus but also because of the swim team's coaching staff. Shepard said, "I really love the coaching staff, they are not only focused on you as an athlete but also you as a person and your well being in general, and I just felt at home with all the girls."
For any underclassmen who hope to get recruited by a college for the sport that they are playing, do not think that colleges will only look at you for where you are now, but they are also looking for people who have a lot of potential. Shepard said, "they are not just going to look at you in the athletic sense, but they are looking at you as whole because they do not want to bring someone into their team that is not a good person or does not mesh well with the team." It is important to not become obsessed with your performance, but rather that you are willing to work hard to get better and that you are also a well rounded person.
Other seniors who signed their National Letter of Intent include Annie Clark (12), who committed to Virginia Tech for tennis, Grace Cozad (12), who committed to the State University of New York Albany for volleyball, and Maya Elassal (12) who committed to The Citadel for volleyball.

About the Writer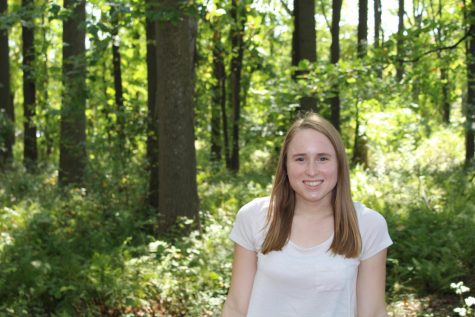 Lindsey Katsaros, Editorial Board Member
My name is Lindsey Katsaros and I am a senior at Oakton High School. I have been a part of the Oakton Outlook staff since freshman year. I attended the National High School Journalism Convention in 2015 to further my knowledge in the field. I was the Outlook news editor last year, and I am...