Seventeen and Counting…
Snowboarding superstars take the gold
Throughout the month of February, the 2018 Winter Olympic Games have been taking place in PyeongChang, South Korea. As of Feb. 23, The United States of America has won a total of 21 medals, including 8 gold, which puts the United States fourth in the total medal count. Two of the gold medal wins happen to be by American athletes who are only 17 years old. Red Gerard and Chloe Kim are both snowboarding superstars that now hailed as 'the future of snowboarding.'
Gerard grew up in Silverthorne, Colorado, and never imagined the he would be competing in the Olympics, let alone winning a gold medal. He first began snowboarding at the age of three at a ski resort in Ohio. When Gerard moved to the west coast with his family at the age of eight, it was clear that he had a lot of potential in the sport of snowboarding. The goal was never to qualify for the Olympics, but rather just a way for Gerard to burn off energy. At the Olympics, Gerard has maintained a casual vibe, falling asleep to Brooklyn Nine-Nine the night before his event. All 18 members of Gerard's family traveled with him to PyeongChang, South Korea so that they could cheer him on during his event. At the Men's Snowboard Slopestyle event finals, Gerard's win came by surprise. Gerard had three attempts during finals to execute a clean run. His first two were far from perfect; his third run left everyone in shock. Winning this gold medal made Gerard the youngest snowboard Olympic Champion.
For Kim, qualifying for the halfpipe event in the Olympics was always the dream. Kim's father quit his job so that he could drive her 5 hours from their hometown of Torrance, California, to Mammoth just so that Kim was able to practice in good snow conditions. In 2014, Kim was not at the Olympics solely because she was too young. She was finally able to show off her abilities at the Olympic stage this year. Kim showed her dominance in the event on her first run, earning a score of 93.75 which would have been good enough to win the event. Going into her third run, she already knew that she had won gold, but she still did not believe that she had done her best; Kim went on to earn a score of 98.25. In between her runs, Kim took to Twitter to share her hangriness with her followers, just like a typical 17 year old. Kim is considered to be one of the best snowboarders in U.S. history. 
Wish I finished my breakfast sandwich but my stubborn self decided not to and now I'm getting hangry

— Chloe Kim (@chloekimsnow) February 13, 2018
Gerard has already qualified for finals in the snowboard big air event, which is brand new to the Olympics this year. While Kim is done competing in the Olympics, she has been receiving a lot of attention in the media. She was recently on the cover of Sports Illustrated with her dog, Reese. She also became the cover girl for Gold Medal Edition of Kellogg's Corn Flakes.
About the Writer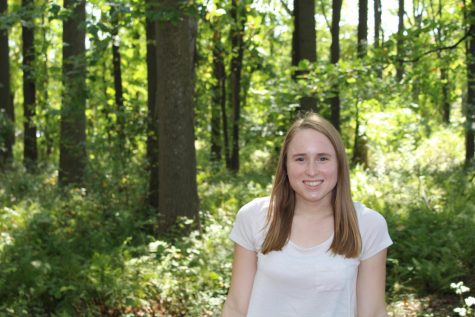 Lindsey Katsaros, Editorial Board Member
My name is Lindsey Katsaros and I am a senior at Oakton High School. I have been a part of the Oakton Outlook staff since freshman year. I attended the...