Everything you need to know about AP exams
Studying methods, managing stress, exam schedules, tips from Oakton students, and more!
Hang on for a minute...we're trying to find some more stories you might like.
AP exams are approaching fast and everyone at Oakton feels the stress. Some students are taking their first AP exam this year, while others are experienced veterans. Nonetheless, everyone is nervous as May creeps closer. Here is everything you need to know about the AP exams.
About AP Exams
The AP exam is the final exam for an Advanced Placement (AP) class. AP exams are standardized tests created to measure knowledge of the content and skills taught throughout the year. A high AP exam score can count as college credit and earn advanced placement for college. Check the exam schedule at the bottom of the article so you can plan your studying accordingly!
How to prepare
1. Break it down.
Studying for AP exams is nothing short of overwhelming, especially for students taking multiple AP classes. Break studying into smaller chunks to avoid feeling submerged by all the content and make the workload more manageable. Perhaps you will spend one hour every night studying for AP Biology, rather than spending 8 hours on a Saturday.
2. Make a schedule.
To help you stay organized and on track, create a schedule for yourself. Map out all the content you need to review and plan what you need to cover each day. A schedule allows you to visually see a timeline and helps you break down your studying.
3. Buy an AP prep book.
A test book will help you review essential content for your AP exams. Prep books also include practice tests, test-taking strategies, and drills. This will introduce you to the test format so you can get a feel for what the real AP exam will look like. Junior Charlotte Cai recommends buying a prep book for each AP class. "I buy the AP books and I go through every single page. I also make a schedule that I follow through on," said Cai.
4. Review old material.
Start by reviewing previous material already completed in class. You should start with old material first because new material is more recent and is easier to recall. Another reason for starting with old material is that frequently class curriculum builds with each unit. Starting from the beginning helps set a foundation for the rest of the content. Junior Catherine Xiang likes to use her old notes to help her study. "Usually I schedule out of a section of my notes from the beginning of the year so that I will have finished all of them at least one-and-a-half weeks before the exam," said Xiang.
5. Avoid distractions.
We all love a good scroll on Instagram or Twitter, but more often than not they get in the way of studying. "Put away the phone when you need to focus. It interrupts your train of thought and your 'focused mode'," said Xiang. Constantly checking your notifications disturbs your flow of work and is easier for you to get carried away. For Cai, she turns off all her distractions in order to study. "I've stopping doing all my distractions. I've blocked Youtube, Instagram, everything, off of my everything. I deleted all my apps just so I could focus on my AP's. I mean, it's not fun but I have to do it," said Cai.
6. Start studying early.
Don't push off studying! AP exams cover a lot of content and you do not want to cram the last week before exams. Spend a little bit of time each day a few months or weeks before the exam to prevent cramming the week before the test!
How to manage stress
1.  Don't overwork yourself.
Remember to take breaks and reward yourself! You want to prepare for the AP exam but you also don't want to burn yourself out. Know your limits and study for an amount of time you know you can handle. Afterwards, take a break and treat yourself with a snack or free time. Then, go back to studying. This way you have an incentive to finish your work. 
2. Get rest.
Sleep is key to being awake and alert while you're studying. A lack of sleep affects your ability to concentrate, memorize facts, and make decisions. To get the most out of the effort you put into studying for AP exams, make sure you are well-rested to help you make the most of your time.
3. Eat healthy.
A healthy diet is often an underrated aspect of self-care. Eating healthy fills you with energy and helps you feel good. Feeling good about your health helps keep your stress levels low and your productivity levels high!
4. Take time for yourself.
While studying for AP exams is important, it is easy to lose yourself in the stress and anxiety. Take time to do things you love. A balance between studying and personal happiness is important in maintaining stress levels and staying positive. "I suggest practicing mindfulness, just taking five minutes of your day to reflect and plan for the future," said Xiang.
5. Recognize the AP exam is not a measure of your worth!
AP exams might be important, but like other standardized tests, it is not a measure of your worth. "I suggest thinking about the big picture in life and realize that these exams are not the true assessment of your character nor potential." said Xiang. An AP exam score does not determine who you are or how intelligent you are. Remind yourself of this while you are studying and while you take the exam. Good luck, Cougars!

About the Writer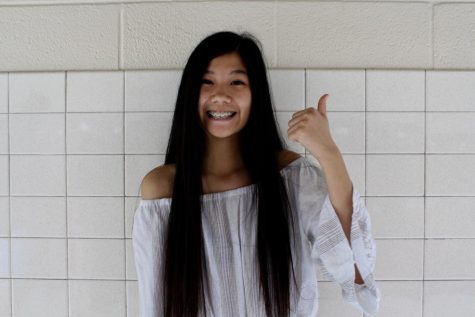 Wendy Gao, Staff Writer
Hi, my name is Wendy. I am a junior, and this is my second year writing for the Oakton Outlook. I am a passionate environmental activist and am also heavily...