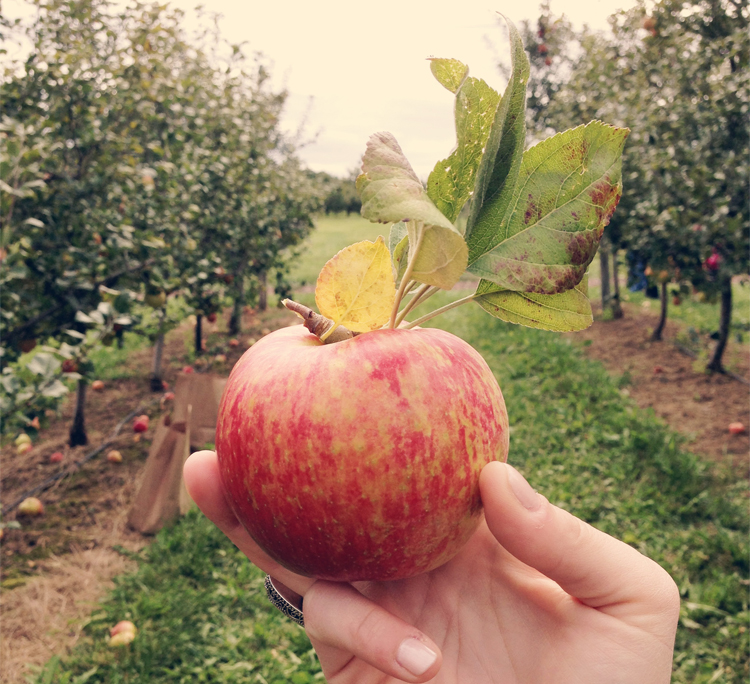 With the essence of fall upon us, we are just beginning to be caressed with the artfully drifting leaves and chilly skies the season is adored for. Something about autumn seems to stir up a sense of magic; it winks at the promise of new beginnings and warm memories, presenting fun experiences courtesy of the changing weather. One of my favorite offerings of fall is apples; I love going apple picking! I especially enjoy returning home bearing a sack of sweet apples, crisp and satisfying. Apples are perfectly reminiscent of all of the joy and new beginnings fall hints at.
There are thousands of apple varieties to choose from among the orchards that dot the globe. Lucky for us, one of the leading producers in the United States happens to be Virginia! Golden Delicious, Granny Smith, and Jonathan are among our state's specialties. Which will you enjoy most? Let's compare apples to apples!
Gala: A mix of orange, yellow, and red; medium sweetness, not too tart, classic
Golden Delicious: Pear yellow; soft, sweet, delicate
Granny Smith: Bright green; tart, sour
Fuji: Some are streaked with yellow green; very sweet versus tart, dense, crunchy, juicy
Ginger Gold: Yellow; sweet, juicy
Red Delicious: Quintessential deep red; sweet and mellow, classic
Stayman: Deep red; firm, slightly tart
McIntosh: Red and green; tart, a bit mealy
York: True red; nice and crisp, firm
Honeycrisp: Red and sunny yellow-green; crunchy, very sweet, tart, crisp, often favored
Jonathan: Yellow and reddish highlights; medium tart
Pink Lady: Pinkish; very firm, crunchy, super sweet and tart
The best apple harvests are backed by origins in cool weather. When their environment has grown too warm, apples harvests are less striking in flavor, texture, and coloration. High elevations make for especially satisfying, high-quality apples; they boast cool temperatures, not to mention absolutely gorgeous views of the mountains and ever-changing fall landscape below.
Planning on hitting the orchard? Take location into account and give one such as the highly rated Mackintosh Fruit Farm, Hartland Orchard, or Marker-Miller Orchards a try. I have also had a fantastic experience at Stribling Orchard in the past. Be sure to take advantage of the apple availability the orchards provide on their website or by phone in order to score your favorite kind of apples. Although journeying to the orchard may be a slight trek, you're sure to be in for both a delightful experience and delectable apples exclusive to autumn if you visit any of these family-centered farms! Apple picking is a quintessential part of fall that will link you with nature and bring about a content state of mind.
Happy apple season! Here's to a wonderful fall.
Sources: University of Illinois Extension, Virginia Apple Board, HEB.com, Fine Choice Foods of Sum-m!, Thrillist, Mackintosh Fruit Farm, Hartland Orchard, Stribling Orchard, Marker Miller Orchards Farm Market & Bakery, VCE Publications of Virginia Tech, Google Reviews
Photo Courtesy of Jojotastic