The Fall of Zion
Hang on for a minute...we're trying to find some more stories you might like.
Playing both small forward and power forward, Zion Williamson lead his high school to three consecutive state championships and earned the South Carolina Mr. Basketball recognition in his senior year. Now, he is the future first pick for the 2019 NBA draft for Duke Blue Devils college basketball team, and set the school single-game freshman scoring record in January 2019.
On February 29, an intense game took place between the top-ranked Blue Devils and the eighth-ranked North Carolina Tar Heels. Many well known figures such as Barack Obama and Spike Lee were present at the game to watch this new basketball legend play. Thirty seconds into the first half, Zion went for a crossover dribble, he planted his left foot, causing his left Nike shoe to rip apart, resulting in what his coach, Mike Krzyzewski, called a "mild knee injury." Williamson was able to hobble off the court, but disappeared into the locker room for the rest of the night. "It sucks." Said freshman forward, R.J. Barrett. "I hope he's ok. He slipped and broke out [of] the shoe at the same time. I really didn't know what [happened]. But I hope he gets better."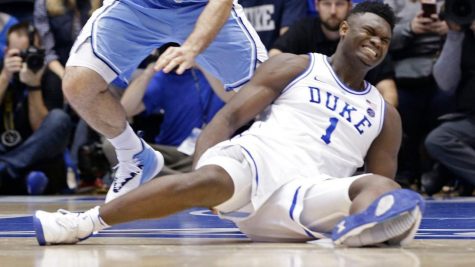 According to the Action Network's Derron Rovell, Zion Williamson has a loss of value insurance policy that he could collect if he were to fall fast the number 16 pick in the 2019 NBA Draft. According to the report, the policy is worth $8 million. The NCAA said, , "loss of value insurance is insurance that protects a student-athlete's future contract value from decreasing below a predetermined amount due to a significant injury or illness suffered during the policy's designated coverage period. It is typically purchased for the year leading up to the athlete's draft eligibility. It requires medical underwriting, and may include exclusions for specific pre-existing injuries or illnesses."
    Nike wasn't able to get away so easy with the incident. They were repeatedly blamed for a sprained knee to the rising basketball star, Zion Williamson. As a result, the Nike company has had $1.1 billion knocked off its stock market value due to what's been called one of the most expensive apparel failures in history. The incident was a "very visible shoe structure failure for a company committed to a performance and technology of its products," said Mario Natarelli, a brand expert at the MBLM agency in New York. A spokesman said Nike has began an investigation into what is called an "isolated" event. "I've seen guys bust through shoes but not sprain their knee," coach Mike Krzyzewski said. "He's gone down a couple times where he's slipped and saved the ball. That's what I thought happened. He goes so fast that maybe if there's something slippery, that happened."
The Duke Blue Devils must now adjust their plan for the season if they want to keep their winning record. "It was the first time we've not played with him all season," Duke freshman forward Cam Reddish said in an interview with ESPN. "We miss him as a player, but it's not just that. He is also the source of our energy. So, without him on the floor, that energy is missing. We have to be back in the gym tomorrow, figuring out how to find that energy while he is gone. However long that is going to be." The Duke Blue Devils must now adjust their plan for the season if they want to keep their winning record.