Recycling at Oakton
The environmental club's hopes to increase recycling at school.
Hang on for a minute...we're trying to find some more stories you might like.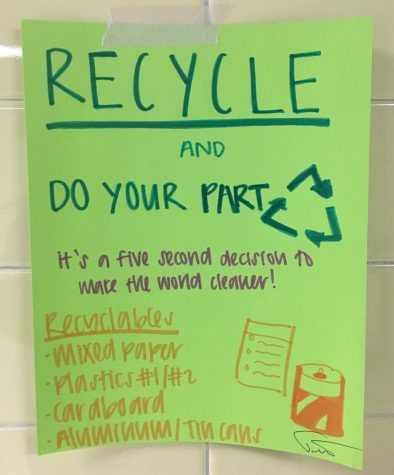 According to FCPS Get2Green, the environmental stewardship program for Fairfax County Public Schools, Oakton has never been high on the charts for recycling. In the last year, Oakton produced a total of 282,903 pounds of trash and only  78,024 pounds of recycling – a minuscule number in comparison. This year, the Oakton Environmental Club hopes to tackle the underwhelming recycling culture at Oakton and establish it as a school norm.
Environmental club president Sydney Rico, 10, says, "Currently the Environmental club is working to educate our student body here at Oakton on the ins and outs of recycling." The club has made flyers on what can and cannot be recycled to hang above recycling bins and trash cans around the school to help students decipher where to place their waste.
Due to new recycling policies in Fairfax County, recyclable materials only include mixed papers, #1 and #2 plastics, cardboard, aluminum, and tin – a significantly shorter list than the previous policy. Anything other than these items that are placed in a recycling bin at school will be automatically designated as trash, and the environmental club hopes to solve this by educating students and teachers. Alongside hanging flyers, the club is in the process of making advisory presentations for teachers to show during third period.
However, the club has faced challenges and obstacles in their recycling efforts. Rico says, "Trying to include the participation of all students and staff has been an obstacle for us." It is difficult to change a school's habits when the people aren't also intent on changing their habits. To Rico, increasing recycling at Oakton will also require a change in student and teachers' mindsets – everyone must be willing to participate for substantial change.
To increase recycling, the environmental club targets high trash periods like lunch. Simply offering recycling bins in the cafeteria won't precipitate action, so club members bring the recycling bins to students. After each lunch period, club members walk around the cafeteria and collect recyclables to ensure the right things are being recycled. Although it's been a long time coming, the club has seen changes in student mindsets and behaviors. Club member Clare Sparling, 11, who is a frequent lunch collector, says, "I've noticed that the more we walk around to collect recycling during lunch, the more students are learning what can be recycled. In the beginning, we had to prompt students and decipher for them what could be recycled from their lunches. Now, many of them are able to just place their recyclables in our bag."

About the Writer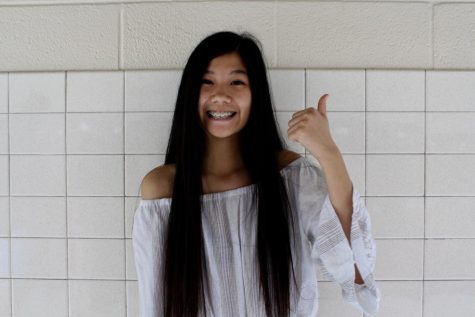 Wendy Gao, Staff Writer
My name is Wendy Gao, and I am a senior. I have been part of the Oakton Outlook for the past three years, and it has become a significant part of my high...