Subway: Eat Stale
Here's why so many Subway restaurants have been closing recently.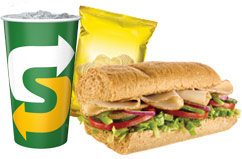 Originally founded in 1965 in Bridgeport, Connecticut,, Subway has grown to become the largest fast-food franchises in the world. The build-your-own sandwich store even surpassed the number of McDonald's in the U.S. and is often credited for sparking the "build-your-own" style of restaurants such as Chipotle, Cava, and Mod Pizza. However, beginning in 2018, customers have noticed that several Subway locations have been closing or going out of business. This has come as a shock for the restaurant's loyal customer base as well as to the general public, given the success that the franchise had garnered, especially in the past decade where quick and accessible food is often the only option in today's high-stress, fast-paced lifestyle.
During the late 20th century, Subway was on a mission to prove itself the best fast-food restaurant in the worldwide and opened an excessive and arguably unnecessary amounts of locations. Part of this comes from the franchise system under which Subway and all of its locations are operated. Under this model, the cost to open a new store is on average $190,000. For comparison, it costs McDonald's about $1.8 million to open a franchise (Statistics courtesy of Business Insider). This practically factor forces the owners to continuously open more and more stores. But what they gained in advertising, popularity, and expansion they lacked in quality. 
Shortly after Subway's franchise-opening rampaging, the company experienced a significant decline in its standards, such as stained and broken windows or poorly chopped vegetables. All of these issues eventually led to the company being forced to close over 1000 stores nationwide after complaints came rolling in about the stores' poor condition.
According to Subway, the company hopes to be able to maximize its profits from the recent closure of over 1000 locations worldwide. Although this may seem counter-intuitive, by minimizing the number of stores customers will have fewer options, increasing revenues for individual franchise owners. With the money saved from the operation of the stores that have now closed, Subway is driven to revise and redesign its strategies in order to adapt to the future of the food business. For example, Subway plans on opening up kiosks in which customers are given the freedom to customize their order even more through self-ordering and mobile payment options. The fast-food chain is also invested in renovating its locations through more comfortable seating options, USB charging ports, and remodeled menus in order to improve the overall customer experience (Statistics courtesy of New York Times).
Still, many experts believe that Subway's success may never be that of what it was in the past decade. Though the company has been on a quest to update its stores for its changing customer base of the modern world, there are still skeptics who believe the damage done by Subway both the business itself and its name is enough to completely abandon the business altogether. Only time will tell, however, what's truly in store for Subway.