Is Trump Fit to be President During This Unprecedented Time?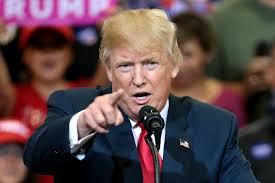 As the number of coronavirus cases in the world hits one million, and the death toll surpasses 50,000 more and more people are fearful of the global condition of the world. At the forefront of this crisis is the United States, which as of April 2nd has over 245,000 cases. Cases are increasing by the day, and while most people are at home practicing social distancing, the only person who doesn't seem to be concerned is our president. Instead of giving a beacon of hope to the people during this tough time, he sits in his office boasting about the economy and his personal greatness. This begs the question: Is Donald Trump really fit to be president during this unprecedented time? 
   The short answer is no. Throughout this entire crisis, he has sat and spewed lies about how "under control" the entire situation is and has been actively spreading false information. He fails to acknowledge the fact that our economy and healthcare sectors are struggling, and will continue to struggle if he doesn't admit that we need help. Thus far, over 6.5 million Americans have applied for unemployment, and there simply aren't enough sanitary supplies to get through this crisis. 
   Over the past couple of weeks, governors across the country begged Trump to federally set prices for necessary goods such as masks and other sanitary supplies.  Instead, he resisted using emergency powers to compel production, saying companies will voluntarily provide much-needed protective gear. This is causing states to have to compete with one another to buy goods to help their people. He doesn't realize that in doing so he is allowing the systems to be overburdened which lengthens the span of the problem and puts thousands of healthcare workers at risk. 
   Due to the underprepared healthcare system doctors and nurses are quitting their jobs or are having to choose between their family or patients. Healthcare workers have been saying again and again since coronavirus cases began to rise that they need more equipment. They are having to reuse scrubs and masks in an attempt to protect themselves and other patients. 
   By not giving the adequate amount of masks to doctors and nurses it is also hindering testing and how readily available testing can be. "We had a chance at mass testing at an early stage, but we blew it as a country," said Mark Levine, a New York City Council member who leads the health committee. Now it is safer for people who have mild cases to just stay home and quarantine than venture out to try to get a test, where they could endanger others as a result. 
   It also doesn't help that Trump has boasted many times about finding a cure for COVID-19. By doing this he is giving people false confidence and endangered people's lives by promoting the use of hydroxychloroquine, which is an immunosuppressive that treats malaria. The results of his promotion led to a man's death and women to be hospitalized for taking a form of chloroquine that helps clean aquariums. The couple learned of chloroquine's connection to coronavirus during a President Donald Trump news conference, which "was on a lot actually." They took it because they "were afraid of getting sick," the wife said.
   In the midst of all of this, President Trump has failed to recognize the problems the country is facing and merely flaunts his greatness. The economy that Trump takes credit for is falling into a recession and the Fed is unintentionally leading America into another housing crisis. If the federal government doesn't start rolling out mandates the coronavirus and its effects will continue to haunt America for many years to come.