How to Keep in Touch Through the Quarantine
Here is a list of tips and tools to help maintain friendships over this mandatory break from socializing. Below are some apps, games, and activities, along with where you can find them. These tips should help with staying connected to friends over this unexpected break. Stay strong!
Psych –

A game to play with a group of people. It comes with two free decks, in which the player answers hilarious questions about their friends. After racking enough coins through wins, players may then buy more decks and continue having fun.  Strangely addicting, it can be found on the app store and google play store for free.

Stickman Party –

An app with many mini-games, such as soccer and car racing, that can be played with up to 4 people. Also free to install.

Netflix –

Usually Netflix is not a great way to connect with friends who cannot be seen in person, however with the Netflix Party extension, one can watch Netflix at the same time as their friends and chat with them while they watch. Having a Netflix account is a must, but other than that it is free, with a computer and Chrome browser.

Nintendo Online

– Similar to Xbox live, Nintendo Online is an online subscription for the Nintendo Switch systems. It is a way to play games online, Nintendo edition. Prices vary, but without the family plan, it costs $4 a month or $20 a year.

Game Pigeon –

For people with Apple products, Game Pigeon can be downloaded on iMessages to play games like basketball, cup pong, and sea battle. It is completely free, and can easily be downloaded through the App Store.

Texting Games –

For example, Truth or Dare, taking turns asking each other a question that must be answered honestly or being dared to do a risky action. Or Would You Rather, which is giving two difficult scenarios and having someone choose one of them. Or even, Categories, picking a category and taking turns naming things that fall into the category until someone can no longer go. All are examples of great games that can be played through text anytime, and allow for a more personal relationship with your friends, maybe even opening up parts of them that had not yet been discovered.

Fitness Apps –

There are many fitness apps out there, tracking steps, distance, calories burned, etc. Most of them even have the beneficial feature of being able to connect with friends and see their stats. A great way to connect through competing with them, and reaching fitness goals together. This is not only an excellent way to feel closer to your friends but also leads to greater physical activity.
Hopefully, these ideas allow you to stay connected with friends, right at home. However, remember to still give yourself a break. Using technology all day every day is very tempting, especially when it's one of the only ways to contact others, but it is still important to step away from the electronics once in a while and live in the moment.
About the Writer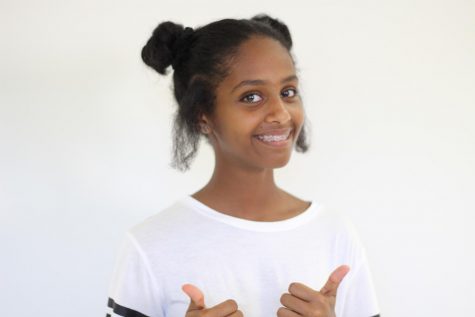 Sitota Mesfin, Staff Writer
Hi! My name is Sitota Mesfin, and this is my first year on the Oakton Outlook. I am a freshman and am very excited to be part of this community. I prefer...