How Biden and trump have more in common than they'd like to make you think
The 2020 Presidential election has been quite interesting, especially since it has taken place during a global pandemic. Joe Biden and Donald Trump have been on the offensive against each other on their campaign trails in what seems to be one of the most combative election cycles in recent memory. In particular, no doubt influenced by restrictions imposed by the pandemic, both of them have taken to social media to spread their message. A particularly crude instance of this was Trump posting a photoshopped image of Biden inside of a senior care home with the tagline "Biden for Resident."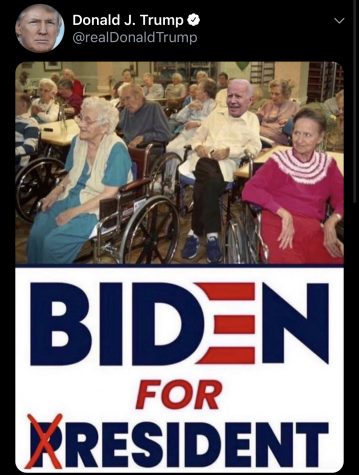 In particular, President Trump has used his Twitter account and his rallies as the primary vehicles for spreading his campaign's message. Trump is nearly always active on his account, providing his followers a steady diet of updates about his life, messages from prominent right-wing pundits, and conspiracy theories about American society as a whole.
This past month's presidential and vice-presidential debates were unprecedented in terms of the circumstances surrounding them and the events that took place within them. For one, shortly after the first presidential debate, President Trump tested positive for the Coronavirus, was immediately rushed to the Walter Reed National Military Medical Center, and put under an intense regimen of experimental treatments, and entered the white house, supposedly healthy and recovered, in a matter of days. Despite this, the second presidential debate was canceled and both candidates held Q&As on the night it was scheduled to make up for it. The first presidential debate was a raucous event, with Trump often going past his allotted speaking time and talking over Biden and moderator Chris Wallace numerous times, much to both of their exasperation. Trump came out swinging by referencing his work on the economy and controversies about Biden's son Hunter but lost favor with the general public by pointedly refusing to condemn white supremacist groups and generally being uncouth. In contrast, the vice presidential debate was much more civilized and measured, with Kamala Harris and vice president Mike Pence squaring off on key issues that the American public was invested in. However, it was similarly unbalanced. According to 53 students from Oakton high school, 49 thought Harris finished advantageously in the debate.
Interestingly, both Vice Presidential candidates found themselves bringing up the issue of climate change without much prompting by the debate's moderator, Susan Page. Pence claimed that Biden's campaign would "bury our economy" by enacting the "radical" Green New Deal, a proposal from congressional democrats that aimed to heavily restrict emissions and pour a lot of funds into stopping the ever-increasing threat of climate change. Pence continued by claiming that Biden's campaign would ban the burning of fossil fuels and fracking and many other environmentally consequential practices, a claim that Harris vehemently denied. Harris' claim confirmed that Biden's platform was far more moderate than Trump's campaign made it out to be. Segments from each debate suggested that Biden and Trump's platforms had a little more in common than both sides would like to admit, mainly an opposition towards the Green New Deal and Medicare for All, a plan that would provide free healthcare for every American. Whether these commonalities will help or harm each candidate during the election is still up for debate, however.