The making of movies during COVID-19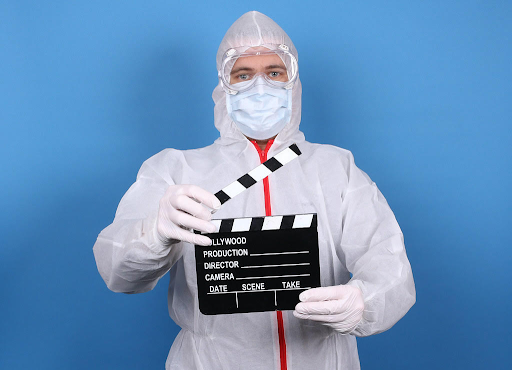 As the pandemic gained presence in early 2020, many industries took a hit and had to shut down for safety reasons. This unfortunately included the movie industry, a large source of entertainment during quarantine. Now almost a year later, filming is starting again, and all of our favorites are coming back to our screens. While everything seems normal to the casual watcher, much has changed behind the scenes.
In addition to mask-wearing, many other safety precautions are taking place on set. Netflix production has taken it to the next level with their own risk assessment tool called the "Barnes Scale," used to determine what precautions need to be taken while in production. Momita Sengupta, VP production manager for Netflix stated, "You run that model, and it spits out all the things that can happen in terms of infection transmission". This model helps executives understand if they need to use an "NBA-style bubble" while filming, as done with a number of movies this year including soon to premiere Netflix original, Red Notice.
On account of multiple new safety features on set including masks, temperature checks, and other personal protective equipment, Jason Blum, famous producer, estimates production costs have increased by at least 10-20% over the pandemic. Additionally, filming is going slower than usual because of an abundance of safety precautions which increase days on set, meaning more money must be added to the budget to accommodate these extra days of filming.
Even with the vaccine rollout currently in progress, many actors are classified as group 1C, meaning many still might have to wait. The past year has been an extremely slow one for production, but hopefully, as vaccine rollout starts to move faster, our favorite movies and shows will be back on our screens in no time.