The Third Dimension
Third party presidential candidates Johnson and Stein step up campaigns, aim to provide alternative to major opponents from Monday's rowdy debate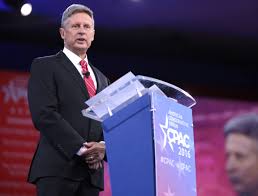 Hang on for a minute...we're trying to find some more stories you might like.
Monday's presidential debate set records across the board, attracting as many as 100 million viewers to the rhetorical brawl.
Observers across the country critiqued the two candidates from their social media platforms, and as Oakton students tried to block out all the "#fcpsgov" banter on their Twitter feeds, witty posts flew across the web. Between jabs at Donald Trump's alleged ignorance of the record and countless jokes at the expense of Hillary Clinton's pantsuit, the political commentary was growing to include more young Americans than most times in recent memory. The presidential candidates – for once – were taking centerstage in the public discussion.
Except, that is, for the presidential candidates whom the presidential debate ignored.
As the nastiness grew between Trump and Clinton, the past several months has seen a marked rise in the polls for two third-party candidates that claim to present a more reasoned alternative to the two-party system. As of Monday, Gary Johnson of the Libertarian Party and Jill Stein of the Green Party were nationally polling around 7.4% and 2.4% respectively – both respectable numbers for third-party candidates at this stage in the election.

Loading ...
Still, with only about 10% of the electorate supporting them, these candidates needed more time in the public eyes. For both campaigns, the debates represented their best chance at making that happen.
Stein has often hinted at the importance of the debates for third party candidates in reaching American voters, condemning the major parties for "silencing the competition." Johnson, however, was even more blunt, saying in a June Fivethirtyeight article that "the only chance [for me] to get elected is to be in the presidential debates."
Even outside of the third party campaign ranks, many called for Stein and Johnson's inclusion in the debates. Between such high profile Republicans as Arnold Schwarzenegger and Mitt Romney, who demand that Johnson gets a podium on the big stage, and many other liberal figures getting behind Stein's campaign, there is a growing public momentum towards including these candidates. One recent poll indicated that as much as 63% of Americans support the addition of other candidates to the debates.
Despite this public outcry, however, the leadership behind the debates is unlikely to allow Stein or Johnson into the events, especially considering the difficult polling requirements which they set for entry into each debate – a minimum that now sits at a whopping 15% nationally.
Such a figure may seem small compared to numbers for more deeply entrenched major parties, but it is a difficult plateau for any third party contender. Even Johnson (whose percentages in many polls more than double Stein's numbers) will face a steep climb to grow his numbers and see his face on the screen alongside the Republican and Democratic nominees.
The Commission on Presidential Debates, a non-profit and allegedly non-partisan committee that administers the events, has recently drawn flak from third-party supporters for certain policies that inevitably play against the inclusion of non-Democratic or Republican candidates in the debates.
Between their leadership council being comprised of numerous former leaders in both the Republican and Democratic National Conventions, and their selected polls not always supporting the best evidence in favor of Green and Libertarian parties, it is not hard to see where the Stein and Johnson campaigns have gotten upset.
Artificial boundaries aside, the simple fact of the matter is that the third-party candidates were denied entry into the first debate and must move forward. In their trek to garnering votes come November, both Stein and Johnson have some serious hills to climb.
For the Johnson campaign, entry into the debates still remains a key priority. Daily newsletters go out to supporters that call for donations to help advertise for more debate inclusion, and remind supporters to "send a message" to the CPD.
On a national level, the efforts have seen some success: the petition to get Johnson and his running mate Bill Weld into the debates has thus garnered over 1 million signatures, and fundraising for the campaign has spiked in light of their recent push to get in the debates. In the month of August alone, Johnson raised over $5 million – a record figure for a Libertarian candidate.
   Despite the national focus, local libertarians have also been making a push to raise awareness of Johnson's candidacy. The Virginia for Gary Johnson Facebook page sports over 1,200 likes, and as their outreach efforts spread across the state, there have been numerous demonstrations of Johnson support in many parts of the Commonwealth. UVA's famous Beta Bridge has been painted with "#letgarydebate" inscriptions, and as his campaign within the state grows, Johnson has polled as high as 15% among Virginia voters.
   With national numbers appearing more daunting for the Stein's campaign, local Green Party headquarters have taken a more ground-up approach to catching the attention of voters. In some of their leaders' eyes, in fact, changing course made little sense at this point in the election.
In an interview with the Outlook, Stein representative Jonah Thomas indicated that the campaign was not surprised with their exclusion from debate, and after several battles with the CPD, decided to focus on strategies more generally localized those of the Johnson campaign.
"I expected it," said Thomas. "No matter how bad they look for excluding [us]… nothing could be worse for them than having third-party candidates there."
"Except that we spend time arguing that it is not fair and a little time petitioning," Thomas said, "the debates do not change our campaign strategies."
As for what those strategies are, Thomas hinted at "all the usual things," that include passing out campaign literature, attracting media attention from newspapers and other sources, and organizing "watch parties," where people are invited to watch television programming related to the Greens.
In Thomas' eyes, these practices have been most effective with likely Green supporters, but that "efforts among the general public have been mixed."
"We often meet people who say they have never heard of us," Thomas said. "A fraction of the public turns away as dedicated Democrats or Republicans. A small fraction wants to argue strenuously with us to say that we have no choice but to vote for Clinton to stop Trump."
Strained as their connection with the general public may be (further evidenced by Stein polling near 2% in most state polls), there is reason to hope for the campaign. As Thomas pointed out,
"A large fraction [of the people we reach out to] is pleased to find there is an alternative."
"
A large fraction of the people we reach out to is pleased to find there is an alternative."
— Jonah Thomas, Representative for the Jill Stein Campaign
Especially as Trump pulls favorability ratings that rival those of former Ku Klux Klan leaders, and Clinton sports figures that in any other election year could sink a campaign, the desire for other presidential options remains strong across the country.
This disgruntlement is the reason why, despite an uphill climb in the polls, the Stein and Johnson campaigns have continued their efforts at reaching out to more voters. It is also arguably why the CPD should consider allowing these candidates to spread their messages to the nation on the debate stage.
In the meantime though, as pundits claim this election to be a decided two-horse race, perhaps The Donald's most popular quip from Monday night could serve as a reprimand of their third party shutdown:
"You're wrong."