Redefining Modern Music
Oakton students share the different types of musics present in their cultures.
Courtney Te, Editorial Board, Publicity Manager
January 19, 2017
When you hear the phrase "Modern music", your mind often thinks of music heard on the radio. Justin Bieber, Ariana Grande, and Beyoncé are examples of artists that are known internationally, but music sung by Western artists in English are not the only forms of music that exist. What about the music of non-English speakers? While they can listen to American artists like Beyoncé and Justin Bieber, culture and language plays a big part in a person's life. What about their forms of music?
Music takes its place in every part of the world. Whether in your headphones or in your household, it is safe to say music finds a place in every culture, person, and family. Music can reach an audience in Norway and then be enjoyed by Brazilians on the other side of the world. Nearly every culture has some form of music intertwined with their own traditions and beliefs. Due to recent innovations over the past decade, almost everyone can listen to these songs and albums with a click of a button. Teenagers are more exposed and educated about other cultures than all the other generations before them. Especially living in the United States, they are able to interact with different ethnicities and hear music in languages they might not be familiar with. Oakton has a diverse student body, so it is not surprising that when students were asked if they listened to music of different cultures or languages, most said yes.
We are all familiar with the the great hits "Hips Don't Lie" by Shakira and "Livin' la Vida Loca" by Ricky Martin, famous examples of Latin music that has grown popular internationally. Latin music has gradually become one of the most influential genres to American music because of its fun, upbeat melodies and songs that derive from traditional tunes. Latin music has various genres and styles, such as Salsa and Bachata, that are commonly sung in Spanish. It originates in Latin America and Spain. Latin music takes a prominent role in the lives of Hispanic people, and often expresses the pride and glory of Latin culture. "If a hispanic person listens to Latin music, it shows how prideful they are of our culture," says Daniela Reyes, freshman. "I was born in Peru, where Latin music was a big thing, so I grew up listening to it." added Reyes, elaborating on how her parents would always blast popular songs when she was younger to introduce her to the genre. "It's different. You usually hear pop music with a lot of electronic sounds on the radio, but Latin music has more traditional influences and can be altered to be more modern. That's what makes it unique to other genres." says Reyes.


   What defines of Russian music is hard to pinpoint. Russia is an extremely large and diversified country that contains many ethnic groups and minorities that developed their own style and type of music. Traditional Russian songs emerge from religious aspects like the Russian orthodox church, and has evolved to have more variety with sub-genres like Russian hip-pop, Russian rock, and Russian pop. "Traditional Russian music lifts your spirit since it's snowing and cold all the time in Russia," Katya Lukyanchikova, freshman. Lukyanchikova describes how each genre has different dances and aspects that go along with it. For example, Russian folk music always include a dance to it with. Dancers often wear traditional red, gold, and white attire. "Potap i Nastya are one of my favorite groups," added Lukyanchikova, "I like their lyrics and voices." While Russian music can be used to describe many different artists with contrasting sounds, what brings it all together is the language. While a vast and expansive country, music always brings people together from every part of the land.
   Taking inspiration from many different cultures and other regional styles, Arab music is a mixture of traditional music that originated in the Arabian peninsula and modern day music of Arabians today. While many may not realize it, Arab music has a huge influence on music we hear everyday. Classical music uses instruments that originated in the Arabian peninsula. Arab music aided in the development of surf music, which went on to inspire the genres punk and garage rock. Music instruments and focuses on vocals are especially used, contrary to Western pop that focuses more on an electronic sound and less on the vocal talents of singers. "Nancy Ajram is my favorite singer because she is so talented and has an amazing voice," says freshman Sarah Selougha. Nancy Ajram, a Lebanese singer, is a famous multi-platinum recording artist that is widely famous in the Arab world for her hit song "Akhasmak Ah", and her 3rd studio album, Ya Salam. As every opinion differs, Selougha says that Arab music does not take a large part in Arabian culture and her life. "As a Muslim, we don't promote music that much. Sober does play a big role in our lives. But then again, not all Arabs are Muslim," explains Selougha. Arab music shows how music can influence the world beyond its political borders. It reaches an audience of people that come from different religious and ethnic backgrounds.
Check out Nancy Ajram's song, 3am Bet3alla2 Feek!
Why do we listen to music? What value does it have in our lives? What makes music so important? Every person may have a different answer to this, but nobody can deny how much music has shaped the modern era. Music expresses emotions and feelings in a different way than words do, and perhaps that is why it exists in cultures that go back eons; that is why music is prevalent in different art forms around the world. So, how do you view music where you come from?
About the Contributor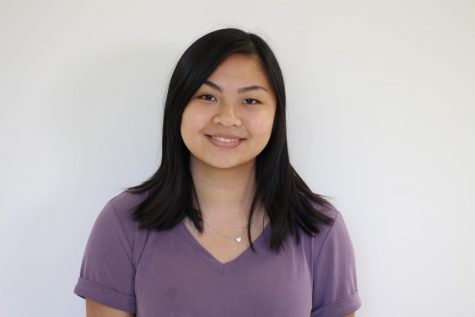 Courtney Te, Editorial Board, Publicity Manager
Hi! My name's Courtney and I'm the publicity manager and honorary team leader. I'm looking forward to doing great things for the Outlook this year, including...