How has social media evolved over the years?
The use of social media has blown up over the past few years, but how have these apps kept up with the changing times?
Courtney Te, Editorial Board, Publicity Manager
March 1, 2017
Hang on for a minute...we're trying to find some more stories you might like.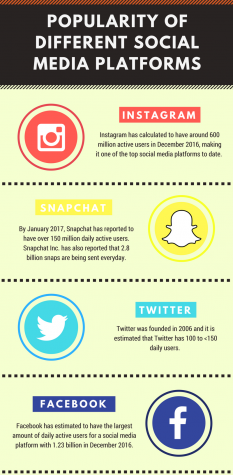 Social media is always evolving and changing. These days, it almost feels as if platforms like Instagram and Snapchat have something new going on everyday to keep the attention of their millions of users that use their apps day in and day out. Over the past few years, social media apps have developed to become easier to use, entertaining, and interactive for users of all ages.
     Instagram is a prime example of how apps have updated to be kept more in trend. When it first launched in 2010, Instagram had a very simple purpose: share pictures to friends and others. Users could post pictures from their camera roll or take a picture on the app and post it straight away for others to see. It could be pictures of your pets or selfies, whatever you felt was worth sharing, but since Instagram's blow up in popularity it has undergone many changes. One of its first big leaps was the introduction of 15 second videos. Then came the logo and icon change from a polaroid with 4 colorful stripes on the side to something more modern and colorful to appeal to a greater audience. There were even subtle changes in the color of notifications and icons on the bar at the bottom of the app.
   Many apps like Instagram have started to have a more minimalist approach to their layouts, including more white space and less color. Even pictures within the app had changed. Instagram only used to allow squared photos, resulting in users having to crop their photos or use third-party applications to create white borders to meet the requirement. Now, Instagram allows users to post photos with varying dimensions and has permanently gotten rid of borders on the side of photos. A big controversy recently was over Instagram's new addition of "stories", where users could post photos or videos to their profile for 24 hours and could only be viewed when clicked. This is extremely similar to Snapchat's concept of stories, and hence the start of the controversy. "I think it's lame that Instagram had to rip off Snapchat," says freshman Ariane Sambile. Instagram has begun to add features not available on Snapchat like including live streams and creations of the app, "Boomerang" that captures moments in mini-videos that play forward and backwards. Most recently on Version 10.9, Instagram has introduced posting a collection of photos that can be accessed by swiping to the left. It is easy to see why Instagram is one of the leading social media platforms coming into 2017. Users are kept on their toes, anticipating what possible features could be added on the next version of Instagram.
   A year after Instagram's release in 2010, another dominate social media platform was released.. Snapchat has around 158 million daily users which it has accumulated over the past few years as it spiked in popularity. The app allows users to take 10 second long photos and videos and send it to others with a click of a button. Snapchat has undergone a tremendous visual change since its initial launch. From font changes to icon redesign, Snapchat is making strides towards becoming a simple and appealing app for everyone. When Snapchat first came out in 2011, a popular feature was the ability to see another person's "best friends", or who they talk to the most. Unfortunately, Snapchat has since taken off the feature much to the dismay of users who want to see their ranking on a friend's account, but has made up for it with multiple new, interesting features. Snapchat has a lot of things to offer with the addition of the "Discovery" section. It is a place where professional newspaper and social media sites can share their content to the millions of app users. It is an easy way to share interesting articles, and has attributed to the growth of many magazines and sites. A big introduction of Snapchat was the idea of "memories". Snapchat has always had the option to save photos before sending, but now there is a faster, easier way to keep all your photos in one place without compromising storage on your camera roll. Snapchat filters have quickly become of the most notable features on the app. From the dog filter to the flower crown filter, the app is always coming up with changing filters that keep users interested on what will be presented to them next. Users are excited for upcoming changes to make their experiences better on the famous app.
   So why should people care? Think about it. This is the age of technology that has quickly become the easiest and fastest way to keep minds occupied. As technology grows more complex everyday, it only makes sense that social media improves as well. If people were stuck with the same old Instagram from 2010, they would lose interest and eventually find apps that are faster and better. The evolution of social media apps has become an essential part in today's growing and changing society.
About the Writer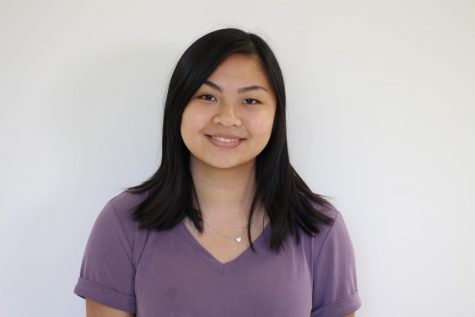 Courtney Te, Editorial Board, Publicity Manager
Hi! My name's Courtney and I'm the publicity manager and honorary team leader. I'm looking forward to doing great things for the Outlook this year, including...