Moonlight won, so why are we still talking about La La Land?
It's hard to explain that feeling we get as gay people when we see media that is, for once, aimed towards us. It's something more significant than just a "hey, that's me;" it's a feeling of intense recognition and belonging in a world dedicated to showing us we don't belong. What's even more elusive is the feeling of seeing such media make it to the mainstream. That is why Moonlight's win at the Oscars is so phenomenal; it is a story of people who don't get stories, who lives that don't get to be recognized. But nothing ever comes easy for minorities, and Oscar night was no exception.
"
Nothing like Moonlight has ever been done before; it tells an untold story and gives a voice to the silenced. "
After the now infamous mix up that caused La La Land to be mistakenly named Picture of the Year, an interesting cultural phenomenon has arisen. Some hoped that the indie film Moonlight's win would spark more conversation on the film itself, and its depiction of underrepresented minorities. But instead we see twitter threads on how gracious the La La Land team was, and even a Vanity cover featuring both directors instead of the traditional solo cover for the winner, and still so many people seem to barely know what Moonlight was even about.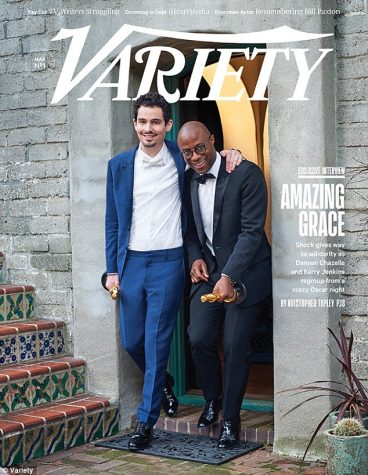 © Variety
One of the things heard most this movie season was what a risk La La Land was, how risky a film it was to make. In actuality, La La Land is an incredibly mainstream film starring instantly recognizable white actors singing about how great Hollywood is. Even the singing, the only remotely risky part of that whole premise, was written by the songwriters behind arguably the most popular musical on Broadway this year. Every factor was in La La Land's favor; it was the opposite of a risk. If I wanted to watch a movie about theatre people singing and dancing in Hollywood, I'd go watch Singin' in the Rain.
Sorry, there are no polls available at the moment.
Now, if you want to talk about risks and originality, let's look at Moonlight. Moonlight had a screenplay based on a semi-autobiographical play, In Moonlight Black Boys Look Blue, written by Tarell Alvin McCraney to cope with his mother's death from AIDS. It had an all-black cast and it centers around a gay man, and included that explicitly in his story. Nothing like Moonlight has ever been done before; it tells an untold story and gives a voice to the silenced. Now, it has become the very first LGBT film and the first with an all-black cast to win Best Picture at the Oscars.
But when that moment came, the moment to present the final award of the night, something went wrong. Someone was handed the wrong envelope, the presenter didn't say anything when something was clearly wrong, and so on and so on. There were a million chances to stop the moment before it happened, but perhaps this was inevitable. Maybe a movie about a black gay man winning Best Picture was just too fantastical to happen without interruption. Just maybe, black excellence and gay talent still have to sacrifice their spotlight to straight white media of equal or lesser quality.
About the Contributor
Finlay Kuester, Staff Writer
Finlay Kuester is a junior and new author for the Oakton Outlook. He is a part of Oakton's drama department, and is passionate about theatre both at school...