Oakton Events and Occurrences
A deeper look at SOL testing and the end of the year on students and their habits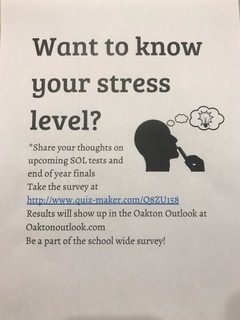 Hang on for a minute...we're trying to find some more stories you might like.
Big Sib Project
What is the BigSib Project? The Big Siblings program is a school wide effort to create a comfortable atmosphere for rising freshmen. Any current Oakton student can sign up, to help a ninth grader find their way around the school. Applicants will either be assigned a rising freshman, or pick a rising freshman of their choice. The main purpose of the tour will to show them main hallways, how to get around, and useful tips which could benefit them. The google form to sign up is available at the Oakton High School website. This is a great opportunity to meet new students and get them familiarized with the way things run at Oakton! It is highly encouraged to anyone who knows their way around Oakton to sign up for this good cause.
SOL testing and Change of Scheduling
With AP testing now behind us, and the World History 1 SOL on the seventeenth, the dates are getting closer and closer. The ever so distant testing is catching up to us, causing many students to go into a state of "turning off" or even depression. The pressure to do well on any standardized test causes stress, but sometimes even excessive worrying.
Based on students' responses in a voluntary survey taken during the week of May fifteenth, all participants reported feeling stressed about upcoming exams. No students reported to be stress free, but a little stress was common. The source of these stressors is most likely academic pressure and lack of preparation.
The most stressful classes among students were Biology, World History, and AP classes. AP physics and pre calculus were common stressors among upperclassmen, while honors classes were the source for underclassmen. The majority of students reported feeling stressed due to academic pressure, while others were influenced by college acceptances.
What caused the wide response gap between answers?
Differences in student opinions may have come from different levels of preparation. How long they had been studying throughout the year to prepare for the tests or their confidence on the specific subject or topic may have been factors in the variety of results. A slight difference in interests in students among particular subjects and classes may have also been a factor.
Participants may have been involved in more difficult classes than others, and even different grade levels. The more preparation or studying they took part in beforehand may have caused some of the respondents to be particularly confident about a certain SOL or final. Practice reviews and packets may have helped some of the students prepare for the large tests, making them feel slightly more ready for the tests.
Evaluating the Information
With the variety of responses from the Oakton community, it is questionable on how final exams are affecting students. With stressful exams to get into colleges and graded finals, the bars are high for many. Based on the results, it is clear that all of the participants are experiencing stress, even if it is a small amount endured. Each respondent seems to be either a little stressed or very stressed, but with the majority being overbearingly concerned. With sixty seven percent of students reporting feeling very stressed, particularly about the SOL tests, most students seem to be anxious about final exams.
Coping with Test Related Stressors and Preparing for testing
It is now evident that the Oakton community is concerned about upcoming finals. How can we fix this issue? Participating in simple stress relieving exercises on a daily basis can help to reduce anxiety and tension among students. Listening to instrumental or music composed of relaxing sounds can help reduce stress quickly. Meditating and yoga are proven techniques to relax the mind and help release any negative feelings, including anxiety. Taking short breaks while studying for tests can help clear the mind and lead to a greater sense of motivation in the activity.
Preparing for finals can be simple, if participants take each task step by step. Rushing through and procrastinating will not be beneficial for memorizing  facts or information. Instead, learning a little about each subject or task and resuming the material each day will prove to be an efficient studying technique. Knowing how one learns best, whether you are a visual or auditory learner will help in the preparation process. If past studying habits aren't working out, it is best to consider a new approach to the issue. Consider spending more time on one subject, instead of learning a little about multiple subjects. If old studying habits are working for you, continue utilizing the same practices.
Summer Classes
Thinking about taking a summer class? Signing up in advance will assure you a position in the class, assuring you will have access to the particular course of interest. With many courses available, from a broad range of subjects and categories, there is a class for everyone..
If summer classes aren't of interest or realistic for you or your family, consider joining academic tutoring programs. These programs will help students get ahead, regardless of subject. Summer classes are often costly and unrealistic for traveling families or students with Summer plans. Although, if interested in activities, signing up is simple. At the fcps website under the Summer learning program tab, different courses can be found including programs for any subject, regardless of grade level. Websites such as Khan Academy feature tutorial videos, and step by step explanations on topics, including math. Tutoring programs are a great way to get ahead, while still having time to participate in activities during the summer.
Overall, stress is a common feeling endured by multiple students. There is no such thing as being stress free. Everyone feels stress at some moment in time, whether it is now, during standardized testing, or later on in life. Don't worry about comparing scores to others and feeling pressured by the future ahead. The ability to change habits, whether studying or in general, can start now.