Las Vegas Shooting
The horrors of what happened in Vegas along with what Oakton students felt about the incident.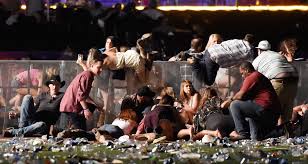 One person can kill fifty-nine people and injure more than five hundred people in only eleven minutes. The Las Vegas mass shooting was a devastating event. It was unexpected and hard to believe this happened. Though the question is, how did this happen? The shooter, Stephen Paddock, had twenty-three weapons in his hotel room as well as 19 more rifles, thousands of ammunition, and explosives in his house in Mesquite, Nevada. He was able to gather all of this legally as well. Before this, there were some people who said that congress needs to pass a gun control law, but there were even more who were against the law. Now, many people are changing their mind.
  What exactly happened in Las Vegas? During the last gig of the route 91 harvest festival, Stephen Paddock started shooting toward the concert from his hotel room on the 32nd floor of the Mandalay Bay Hotel.The shooting started at 10:08 PM and ended at 10:19 PM on Sunday, October first. Police were able to find the suspect right away. They went up to Paddock's room, not realizing that Paddock had cameras set up in the hallway and he could see them coming. After realizing the police found him, he shot himself. Clark county sheriff Joseph Lambardo said, "We have to establish what his motivation was first." However, police do not think this was a terrorist attack. He continued to say, "We know no knowledge of this individual, I don't know how it could have been prevented." That is exactly the problem, his motive is unknown and there is no way this could have been prevented.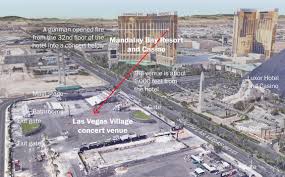 Quinton Robbins was the first victim found dead from the shooting. He was a student at the University of Nevada-Las Vegas. He was only twenty. He was the first of many who died that night. Tara Smith was another victim of the shooting. Tara was a mother of two from Alberta, Canada. Her aunt Val Rodger said, "She was a beautiful soul. She was a wonderful mother and our family is going to miss her dearly." These were just two people who were killed out of the fifty-nine.
  The whole country was affected by the mass shooting in Las Vegas, Nevada. Even the students at Oakton High School. Cece Schmitz (Freshmen) said, "I'm really disgusted, sad, and angry about it. Congress should pass a law on gun control." Kalina Poshkouvska (Sophmore) said, "The shooting was devastating especially because there has been so much going on in the world right now; it was just devastating." Nika Sauger (Junior) said, "I feel as though the shooting was a horrible and tragic event and should not be forgotten." Kyla Straker (Senior) sad, "It was sad, unexpected, and not dealt with properly. I didn't agree with some people who were trying to forget it happened. That won't help the problem."  
  The National Rifle Association(NRA) is very big in Nashville, Tennessee, and a huge supporter of the 2nd amendment, A well regulated Militia, being necessary to the security of a free State, the right of the people to keep and bear Arms, shall not be infringed. Nashville, Tennessee is known as the 'capital' of country music. The NRA often sponsors and gives support to country music and events for country music. This event in Las Vegas has shaken up some of the most loyal followers of the NRA. Country artist Caleb Keeter wrote on twitter Monday, "I've been proponent of the 2nd amendment my entire life, until the events of last night, I cannot express how wrong I was."
  So much has been happening in the U.S. with the hurricanes and politics, and now this. Although all these things are horrible, they are bringing the country closer together. So many people have put in an effort to help those affected in Las Vegas. Already 79,387 people in 4 days have donated $9,704,815 to the people in Las Vegas, this is from  just one organization. This number will only grow. Some links to places you can donate to will be down below.
  The Las Vegas shooting was a horrible tragedy and should be remembered by everyone. This was the worst mass shooting in U.S. history, and was done by one person. The whole country is still in awe this happened. Even though it was thirteen days ago the memories of the shooting will be edged in our mind forever. Author J.K. Rowling said, "We are only as strong as we are united, as weak as we are divided." This quote proves how we need to act now. Stay forever Vegas strong.