WONDER how good this new movie is?
The new movie Wonder just came out and I'm here to tell you all about the movie with no spoilers!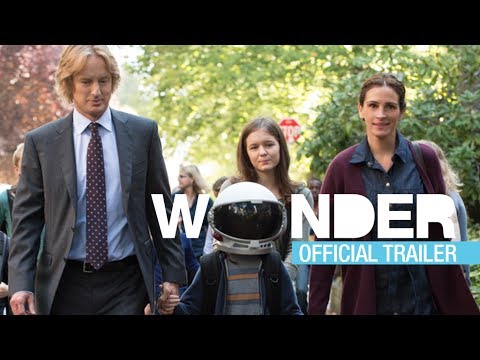 Wonder was originally a book by R.J. Palacio. Many people read this book for school and immediately fell in love with it. It is about a boy named Auggie; Auggie has a facial distortion and the book goes through his journey of starting fifth grade and going to an actual school for the first time. I read the book when I was in fifth grade and I was into it, but not like my friends who read it obsessively. I liked the book and I loved the message it sent, but it wasn't the style I enjoy reading. I love to read fantasy and action filled books. However, when I found out there was going to be a movie, I thought it would be fun to watch. So, of course being the person I am I went to go see it and I thoroughly enjoyed it.
Wonder holds a story so special it appeals to a variety to ages. It is easy to comprehend for younger children and still funny enough for adults. Even if you went into the movie theatre with reservations, thinking you won't like it, there is a great chance you will walk out loving the movie. Yes, some parts were cheesy but that is expected for a PG rated movie. The plot focuses on Auggie however it periodically switches the point of view. I personally liked the point of view of Auggie's older sister, Via. I loved the different views because it kept me engaged because sometimes I relate to other characters more than one, and it is nice to see their side of the story. I'm not the only one who loved the movie. Rotten Tomatoes gave Wonder an 84% and the audience score is 91%. Kenneth Turan from the Los Angeles Times said, "'Though it's upbeat earnestness is very present, it has the integrity to understand that not even kindness can eliminate all problems."'
Wonder shares a very important story for everyone. Sometimes people look different but that doesn't mean they act differently. The movie was a learning experience and I wouldn't say it was my favorite but the story it holds is definitely very touching. If I had to rate it I would give it hands down a 10/10.
About the Writer
Zoe Sauger, Editor-In-Chief
Hi! I'm Zoe and am a senior at Oakton High School. I have been on the Outlook since my freshman year and am so excited to be an editor-in-chief this year....