A club to consider: Best Buddies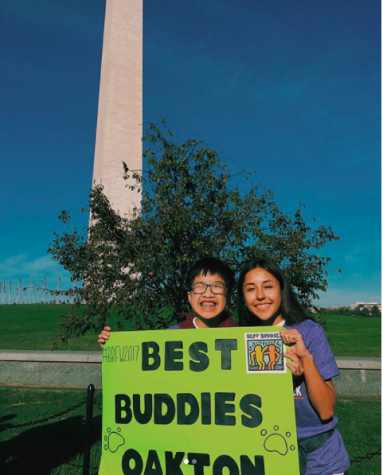 Though Oakton is known for sporting an impressive resume of clubs, particularly ones related to volunteering, over time a few have begun to stand out from the crowd. Best Buddies, a volunteer club sponsored by Ms. Reed, works to foster relationships between special needs youth and teenagers within the Oakton community. The members work with students with intellectual and developmental disabilities through activities like friendship walks, group workouts, and additional monthly get-togethers. From Christmas parties to meal packaging, the activities vary by the month.
In addition, members have the opportunity to participate in a peer buddy system, in which they are paired with a buddy for the duration of the school year. The peer buddy system was set in place to allow buddies and members to foster deeper and more personal relationships with others in the club. Through these activities, Best Buddies attempts to spread messages of positivity towards disabled students, and to combat the stereotypes facing people with special needs.
The club has a long history of positive impacts on the lives of Oakton students. As explained by sophomore Erin Lee, "On a personal level, Best Buddies has always been important to me as a sibling of an autistic person." She elaborates that,  "Before I came to Oakton, I saw how much my brother enjoyed the events, and I knew I wanted to be a part of the club that promoted inclusion for people like my him throughout the school and community." Stories like these exist all throughout the club, and demonstrate just one of the many ways Best Buddies continues to positively impact the Oakton community.