Clubs to consider: Spread a Smile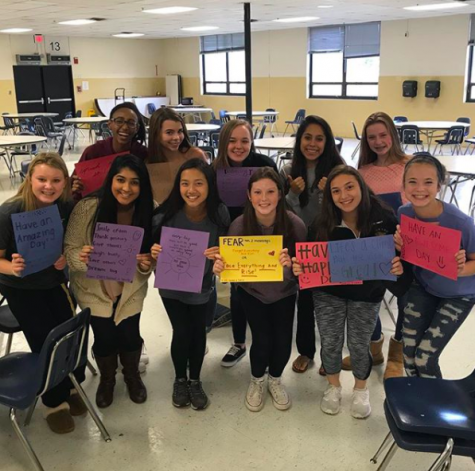 Though Oakton is known for sporting an impressive resume of clubs, particularly ones related to volunteering, over time a few have begun to stand out from the crowd. Spread a Smile, a club founded by sophomores Maya Benson and Kirsten Clements, centers around small acts of kindness. After noticing a lack of positivity and compassion for strangers within the Oakton community, the sophomores started the club in hopes of improving stranger-to-stranger interactions. Since, the club has rocketed to success and now has grown to an impressively large and committed team.
As explained by founder Maya Benson,  "Spread a Smile is a club at Oakton with a goal of spreading kindness and positivity around the school and community." And, the club has done just that. Their projects include the happiness posters you'll see around the halls and a number of other small campaigns within the community.
"I believe this club is important because it serves as a way to make others feel better and as a safe ground for those who are insecure about anything in their life," Maya continued. "The club's intended to be a place that's free from judgment, and a way to just brighten up your day."
Curious about reaching out? Look out for bright yellow wristbands. The club members wear the bands as a reminder to be kind, but because of their bold color, they're easy to spot in a crowd.