Trump fires Tillerson
CIA Director, Mike Pompeo as new Secretary of State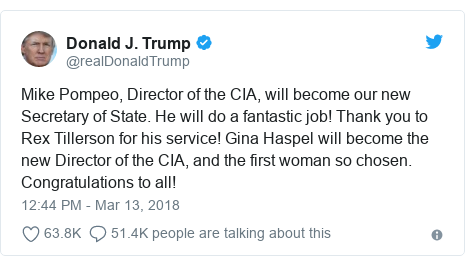 `On Tuesday March 13th, President Donald Trump announced that he fired his Secretary of State, Rex Tillerson. He will be nominating the CIA director Mike Pompeo as his successor, replacing his top diplomat during a time of a potential sit down between Trump and North Korean dictator Kim Jong Un. Tillerson's departure follows months of tension between him and the President. Trump tweeted Tuesday morning: "Mike Pompeo, Director of the CIA, will become our new Secretary of State. He will do a fantastic job! Thank you to Rex Tillerson for his service! Gina Haspel will become the new Director of the CIA, and the first woman so chosen. Congratulations to all!"Tillerson thanked the American people, his staff, and the nation's network of diplomats in the statement, but one person he did not thank was the President himself, the man who appointed him to the job. The only time Trump was mentioned was in the beginning of his statement where the President called him for a " little after noontime from Air Force One," to talk about his departure. This call was hours after Trump informed the world of Tillerson being fired.
Trump thought it was the right time for the transition with the upcoming North Korea talks and various trade negotiations," a Senior administration official said. He added that Tillerson was asked to step aside on Friday but was not given a specific time. Earlier on Tuesday, Undersecretary for Public Diplomacy Steve Goldstein came out and said that Tillerson was not aware that he was going to be fired, saying that Tillerson had "every intention of remaining." Goldstein said that Tillerson was notified of his firing in Trump's tweet, Goldstein was later fired that day. When Trump was asked how Tillerson was made aware of his departure he said, "Rex and I have been talking about this a long time." Trump added, "We were not really thinking the same, with Mike Pompeo we have a similar thought process." Trump has been eyeing Pompeo to take the job since Fall. His anger over Tillerson hasn't subsided after it leaked last year that Tillerson called Trump a moron, and many in the White House saw them as incompatible.
Tillerson's egress comes just as Trump's administration is embarking on their most difficult foreign policy goal to date, engaging the North Korean regime. Tillerson had led the maximum pressure campaign that the administration credits with bringing North Korea to the negotiating table. Many people say that North Korea was his biggest reason for firing. A close source to Trump said, "He wanted a strong team ready for North Korea. That's why he moved the chess pieces." On the flight back from Africa, Tillerson gave an off-camera interview saying: "I have a lot of confidence in my ability to create the conditions for successful negotiations between two very disparate parties, but I'm not the only guy working on this. Others are working on this as well. We have an obligation to prepare the President for that meeting and I think there is some ground work we can do ahead of that that will help with that preparation."
It was a rocky journey for Rex Tillerson ever since his swearing on on February 1st, 2017. Tillerson had to affirm with a president who publically undercut him as well as tensions with Trump's son-in-law, Jared Kushner. There was also competition from US ambassador for the UN, Nikki Haley, and an enumeration of complaints from State Department staff and others in Washington saying that he was running a deeply dysfunctional agency. Many foreign envoys have also voiced their concerns on Tillerson's state department. One Washington-based envoy described how ambassadors were finding ways to work around the state department, because there were no senior officials in place to speak to. His business experience hadn't trickled down into government, as he leaves many senior diplomatic positions unfilled. The usual channels within the state no longer worked. "Technically, the State Department has vanished, has disappeared," the envoy said. "It's totally dysfunctional."
About the Writer
Sahithi Jammulamadaka, Editor-in-Chief
Hey! My name is Sahithi Jammulamadaka and this is my fourth year on the Oakton Outlook staff and my second year as Editor-in-Chief! I am super involved...