Apps That Everyone Should Have For the School Year-Lizzie Thompson
October 17, 2018
Filed under A&E
Hang on for a minute...we're trying to find some more stories you might like.
    Many people go through hundreds of apps over their life. Personally, I have gone through over 120 apps from the time that I have gotten my phone. Though apps come and go, here are some apps that every student/ person should have this school year.
   The first app that people should have is a game called Helix Jump. I got this app a week ago and haven't been able to put it down. This app has been popular since this summer when it was released, Which surprised me because I didn't think that it could live up to my expectations. In this game there is a spiral staircase along with colorful obstacles to get through to the next level. You are depicted as a tiny sphere bouncing around the screen.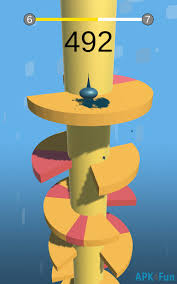 The game is surprisingly stressful and relaxing all at the same time. This is why this game is perfect for the fall or school season. Everyone deserves a stress reliever during the school time.
The next app that people should have is called UkiyoWave which is much more aggravating than the last app. In this game you are being portrayed as a surfer riding the monster waves in the game. The waves get progressively higher quickly, making it more difficult for the surfer to progress upwards. Once you fall below the lowest wave level,he game stops. This game was definitely annoying and addicting. Just a good app to have for when your up for a challenge.
The last app is definitely the most important. This app is call Photomath, and it is extremely helpful for math help. All you have to do is take a picture of the math equation and the app will show you the steps to solve the problem. The app unfortunately doesn't solve every problem like graphs and word problems, but it is great if you don't want to go to a tutor for math help. Perfect for the confusing math times of the school year.
   All of these apps have been on my phone all school year and make my life less stressful, easier to manage, and get me ready for a competitive school day. These apps may seem insignificant, but they all play a small part in making you more prepared for the school year.