Saudi Arabian Journalist Disappearance
What happened and what is being done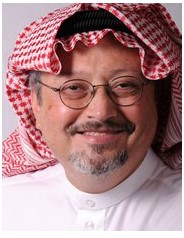 A Saudi Arabian journalist went missing two weeks ago on October 2nd and it is now speculated that he was murdered. Turkish officials have investigated the situation and say that Jamal Khashoggi entered a building to conduct an interrogation and that there was no evidence that he left the building. Turkish officials also say that the Saudis had Khashoggi murdered and cut into pieces. There is no solid evidence of Khashoggi's death as of now, but the Saudi government is preparing a report to acknowledge Khashoggi's death.
The journalist's disappearance has caused many to speak out including President Trump and Jeff Sessions. President Trump says there will be serious retribution if the Saudis are found to be responsible for the possible death of Khashoggi. Reported by CNN, Sessions says that, "The world will be diminished if journalists aren't able to go and travel and to report honestly conditions in different countries. Or people in their own country can't report on corruption or crime or misconduct in their countries. So I think it can even separate countries from a civilized community." While this statement shines a light on the importance of journalism, it also shows how gravitational the issue is. If Saudi officials are found to be responsible for Khashoggi's death, President Trump will be pressured to drop the arms deal that he made with Saudi Arabia last year. Furthermore, tensions will be increased with many other countries that Saudi Arabia has ties with if they are found to have had knowledge of the incident.
President Trump had a phone call with Crown Prince Mohammed Bin Salman which resulted in the Crown Prince firmly denying that he had any knowledge of what happened to Khashoggi. President Trump sent Secretary of State Mike Pompeo to meet with the King of Saudi Arabia, King Salman, and his son the Crown Prince, Mohammed Bin Salman where Pompeo urged for Saudi leaders to conduct an investigation. Pompeo plans to continue to Turkey after his visit to Saudi Arabia. In Turkey, Pompeo will receive updates on the investigation that the Turkish are conducting.
It is not clear what the fate of Jamal Khashoggi is or will be, but we are all hoping to clear things up with both Saudi Arabian and Turkish officials.