Nancy Pelosi wins Speaker of the House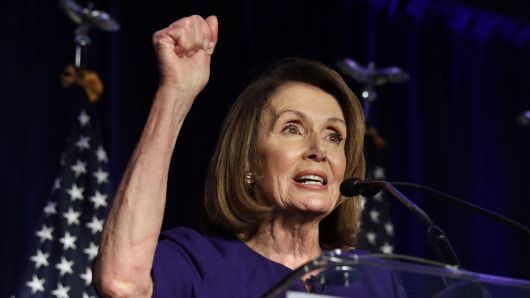 On Jan. 3, Nancy Pelosi became the Speaker of the House by two hundred and twenty votes against Kevin McCarthy, the Republican House minority leader in the one hundred and sixteenth Congress. She has been the only woman speaker of the House winning the gavel from 2007-2011, and again this year.  She calls the Congress a "transformative freshman class" filled with fresh, new, and young faces, and declared, "Our nation is at a historic moment, I pledge that this Congress will be transparent, bipartisan and unifying, that we will seek to reach across the aisle in this country, and across divisions across our nation."
   In this prestigious role, she will often find herself going head to head with President Trump and his administration. Most notably on the issue of the border wall; "We're not doing a wall," Ms. Pelosi said sternly outside the House chamber. "Does anybody have any doubt that we're not doing a wall? So that's that." Speaker Pelosi has made it clear that she believes that there are many more important issues facing the country such as shielding the Affordable Care Act and Medicare, addressing climate change, strengthening gun background checks, ending discrimination against LGBTQ Americans, and protecting young immigrants brought to the U.S. illegally as children.
   Speaker Pelosi has also recently uninvited President Trump to the State of the Union over the partial government shutdown. In a letter to the president, she said that she would like to postpone the date of the address and is ready to work with the president to "determine another suitable date," or for the president to deliver it in writing.  The State of the Union Address, since the day of modern budgeting, has never been delivered during the day of a shutdown. A lot of what Ms. Pelosi talked about in postponing the address had to do with security, pointing out that in September 2018, Homeland Security Secretary Kirstjen Nielsen designated State of the Union addresses as "national special security events" that need "the full resources of the Federal Government to be brought to bear" for the sake of safety and security.
   Nancy Pelosi is on a clear path to becoming one of the most influential Democrats in government and will have the honor of being the Speaker for the next four years. "We enter this new Congress with a sense of great hope and confidence for the future and deep humility," Pelosi said in remarks shortly after being elected to the speakership.