Aladdin Live Action Movie Review
   On May 24, 2019, Disney's live action "Aladdin" movie by director Guy Ritchie was released. It is about a street guy named Aladdin and the rebellious Princess of Agrabah, Princess Jasmine.  It shows viewers a whole new world with singing and dancing. It made $207 million on opening weekend, and in total, Aladdin has made $508 million worldwide. It was a big success, compared to other live action D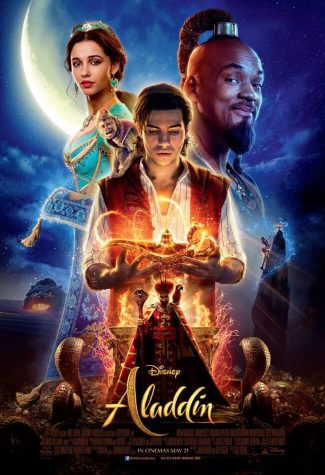 isney movies.
    Did you know that "Aladdin" was the first film for Mena Massuod, who played Aladdin? He got the role over 2,000 other actors. Even though he didn't have any experience of singing and dancing, he did a great work in the film. For Princess Jasmine, Naomi Scott got the role. Her singing and acting moved a lot of people. Mena Massuod and Naomi Scott were the perfect casting for the Aladdin. For the Genie, Will Smith took his place. Before the "Aladdin" was released, there were many concerns about how Will Smith could play the Genie. People were curious about it, but after seeing the movie, people extolled Will Smith. He sang with rap and acted with humor; it was absolutely immersive.
   Additionally, there are new characters that we haven't seen in the original  Aladdin movie. For example, Nasim Pedrad played Dalia, a good friend and helper of Princess Jasmine. In the original movie, Princess Jasmine had no helper but a tiger named Rajah, but in the live action movie she had a new partner. People were wondering what influence that she will give to Princess Jasmine. There was also a new prince, Prince Anders, played by Billy Magnussen. This was the controversial topic for many Aladdin fans. Some of them were wondering why there was a white actor appearing in the Middle Eastern movie, and others were arguing that it will be something new and it can become together well. 
   In Aladdin, music is indispensable. Many songs from the original Aladdin ("A Whole New World", "Friends Like Me", "Prince Ali" etc.) are here with slightly different versions and new actors' voices. For example, Will Smith's "Friends Like Me" more hip-hop version. Also, there is a new song called "Speechless" that wasn't in the original movie. Also different from the original Aladdin movie, Princess Jasmine's solo part that was added for live action movie. It captivated the audience with touching lyrics and an unforgettable melody. People couldn't stop humming the song for a while afterwards. All the songs, dancing and acting were enough to catch people's interest.
   The new Aladdin movie was great and gave audiences a happy movie for a day out. For those of you that couldn't watch the live action movie, Aladdin DVDs are released on September 10th, 2019, so you can enjoy it too!