Planning the Winter Break
   It's December, and the year of 2020 is approaching.  Winter break is coming but still there are so many students who do not know what to do during winter break.  The break is in the middle of the second quarter, so students have to focus on their school work. However, many Oakton High School  students are planning to go to a new place.
   Sujin Kwak (10) is going to an Atlantic Coast town, She said,  "I'm going to Rehoboth beach in Delaware with my friends." It's about forty degrees Fahrenheit in Delaware now, probably colder near the beach, but she and her friends will enjoy the calm beach and take a break from the school for a while.
   Since the break is for two weeks, there are students who are planning to go on a long trip out of the U.S. Hyeonmin Lee (9) said, "I'm going to Cancun, Mexico for full 2 weeks. It will be warm there, and I will enjoy the warm breeze." Unlike Virginia, Cancun is now around eighty degrees Fahrenheit and is perfect to swim and do many activities. She also said, "My family got the flight ticket little late, so it was so expensive. I hope you can plan your winter break as soon as possible." 
   While the majority of people go somewhere else to enjoy their break, some prefers staying in their home. Neha Lajesh, a sophomore said, "I'm just gonna stay home, probably sitting on the couch and watching Netflix. It is too cold to go outside and do something. Plus, I need to catch up with my school work because my grades are falling." It is also good to take a break at home because it is freezing outside.
   For those who didn't choose what to do during winter break. Here are some great places to go! 
Key West, FL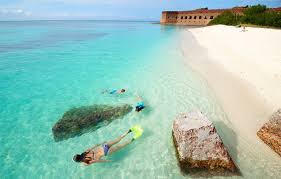 The Florida Keys are a string of tropical islands that stretches about 120 miles off the state's southern tip. Key West is popular with partiers as well as those who love beautiful beaches and sunsets and art galleries. It is also well known for many activities such as snorkeling and diving in the coral reefs. Most importantly, it is about  eighty degrees Fahrenheit, so you can enjoy the warm weather with a beautiful beach.
Magic Mountain Ski Area, VT
Magic Mountain Ski Area is located in Glebe Mountain, Londonderry, Vermont. It is opened in 1960, by a ski instructor. He founded this area as this mountain reminded native Swiss Alps. There are almost 10 courses for skiing. Unlike other ski area, Magic Mountain has its original nature preserved, so you can enjoy skiing more than any other ski area.
Yellowstone National Park, WY
Yellowstone National Park is a nearly 3,500-sq.-mile wilderness recreation area atop a volcanic hot spot in Montana, Wyoming. Now, there is white snow all over the park, and it has good harmony with wild animals such as  Grizzly bears, wolves, and free-ranging herds of bison and elk. You can enjoy true nature in Yellowstone National Park, and feel the freedom. It is the best place to rest your mind and body.
Oakton students are going to various places during the winter break. It will be so good to go to another country and stay there for two weeks, but it is also a smart choice to stay at home and plan to do something. But, make sure not to waste your time!