Climate Change: Sapporo Snow Festival
   Japan's Sapporo Snow Festival is held for one week every February in Hokkaido's capital, Sapporo. The Sapporo Snow Festival was started in 1950 when high school students built a few snow statues in Odori Park. It has since developed into a large, commercialized event featuring magnificent snow and ice sculptures and attracting more than 2.5 million visitors from Japan and across the world. Now, it is one of Japan's most popular winter events.
   However, in 2019, Japan saw record low levels of snow. It snowed about less than half of the annual average in Japan. In December 2019, snowfall was the lowest along the Japan coast since 1961. The festival organizers faced a big obstacle because of this lack of snow combined with surprisingly warm weather. They had to find new sources of snow from other towns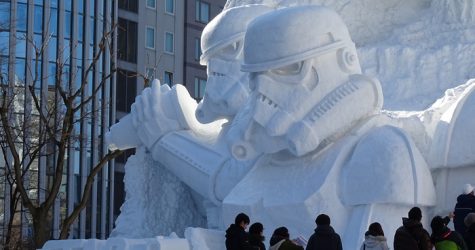 to create numerous snow sculptures.
   This winter, because of the warm weather, a lot of Oakton High School students could also feel the difference. Ennha Kang (11), said "We only had two snow days this winter and one of them was not even a snow day. I usually walk to school, but compared to last year, I didn't feel that cold while I was walking." Libby Lingenfelter (9), said "One snow day, it snowed a little in the morning, but it didn't settle anywhere. For me, this is the very first winter that I felt that I could see climate change actually affecting my life." Some students also felt the change in their life. "When I was going somewhere, unlike last year, my parents and I didn't have to dig my car out of the drift and wipe the car window.", said Bibechana Pandey (9). This shows that climate change is affecting the whole world but as well as people's everyday life.