Podcasts to Curb Quarantine Boredom
For when you inevitably run out of TV shows to binge.
Television watching has become a go-to activity for many high schoolers in quarantine. Unfortunately, it's not exactly eye doctor recommended to binge Netflix all day long. That's where podcasts come in: all of the entertainment of television without having to stare at a screen. For an opportunity to multitask, to feel slightly more productive than watching tv, or because the Netflix list is finally empty, start listening to a podcast! On Apple Podcasts, Spotify, and the iHeartradio app, there are countless options for every interest (and from every celebrity) imaginable. Below are some recommendations of entertaining podcasts to start with. 
For the adrenaline junkie
Dirty John is an immersive thriller investigating the true story of a relationship gone very, awry. Reporter Christopher Goffard of the L.A. Times puts together the pieces of this tale through real-life interviews in this seven episode series. For a popular true crime podcast that follows a different story each episode, try Crime Junkie and My Favorite Murder. Note that these three shows include mature themes, so they are not recommended for every student.
For the language learner
Students can sharpen their language skills at home with the many podcasts available in different languages! With different versions targeted specifically toward intermediate and advanced speakers, News in Slow French and News in Slow Spanish are exactly what their titles suggest. They share real news stories in another language at a slow pace so that learners can actually understand what they are listening to and grow as a speaker.
For the busybody
Dear Prudence is perfect for anyone whose favorite part of a newspaper is the advice columns. Listeners write in with a wide variety of problems in every aspect of life to receive reasonable and sage advice from the host. The problems are never simple, but it is the sometimes unbelievable situations listeners find themselves in that make the show fascinating.
For a lighthearted debate
Food Court with Richard Blais has a random concept, but the entertainment delivers. Each episode, host Richard Blaise invites guests to debate the hard-hitting topics on everyone's mind: food opinions. Everything from cake vs. pie to yes or no on cilantro is covered in this lighthearted series that mixes game-show-like questions with arguments and rebuttals for each episode to culminate in a winner being decided by Blaise himself as the judge.  
These podcasts are just a small sampling of what is available to listen to. There are so many more choices available that can be found with a quick search or browse through a podcast app such as Spotify, iHeartradio, or Apple Podcasts.
About the Writer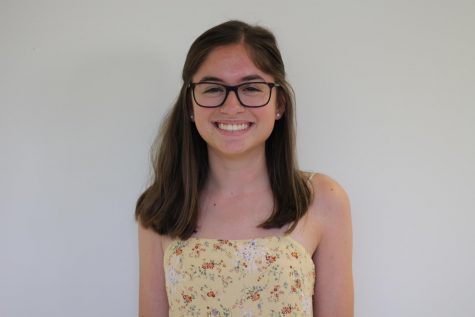 Olivia Garrone, Editorial Board
Hi! My name is Olivia Garrone,  I'm a senior and a member of the Oakton Outlook Editorial Board. I love writing A&E articles and features on the Oakton...