The New York Yankees have been beat out of the 2020 ALDS. So what's next to come?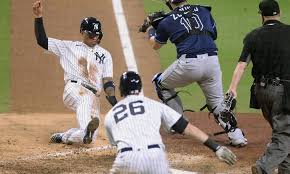 Well, it happened. The Tampa Bay Rays beat the New York Yankees 2-1 in game 5 of the ALDS. I'd very much like to think that I didn't jinx them by praying they would win, but alas the universe is just a cruel place to put your prayers into. Though I was very happy with the outcome of game 4 as they did beat the Rays 5-1 leading them in a 2-2 game tie, I guess it was just another year of the Yankees completely choking in game 5.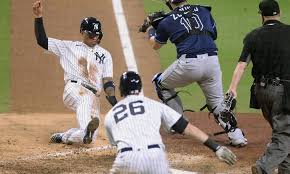 Besides the very upsetting loss for the Yankees, I'd say they did well this season. They did have a 10 game winning streak and a few of the players got recognized for their playing this season. Sure they weren't the best team in the league this year, but they were better than the Red Sox and that's all that really matters. They also got quite the press time after players like Giancarlo Stanton and Gio Urshela hit pretty groundbreaking home runs and grand slams.
Although their loss is still fresh in everybody's mind, New York Yankee managers Brian Cashman and Aaron Boone are already looking ahead for the 2021 season. All possible opportunities are being looked into, including trading one of the Yankees star players Aaron Judge. "The same Judge that posted a 142 OPS+ in 2020. The same one that has a career slugging mark of .558. The same guy that's been a legitimate MVP candidate. That guy." That was a quote from Joe Giglio | NJ Advance Media for NJ.com and his article on "Why Yankees' Brian Cashman should listen to Aaron Judge trade offers".
In the article, Joe talks about how as great of a player Judge is he isn't a very durable one. Since 2018 the Yankees have played roughly 384 games and out of those 384, the twenty-nine-year-old slugger has only played in 240. That's 144 missed games due to injury. That's almost a whole general season of baseball. The thing about Judge is he can either be really good for a while or really bad for a while. There isn't really an in-between. If Cashman does put trading Aaron out on the table the risk of losing a star player is high. Theirs no telling how the 2021 season could go for him. It also depends on what players other teams are willing to trade for Judge or even if they'll offer a big enough contract.
As unpredictable this season has been for not just the New York Yankees but all Major League Baseball teams as well, last night the Los Angeles Dodgers beat the Atlanta Braves 4-3 leading them into the World Series against the Tampa Bay Rays, who defeated the Houston Astros 4-2 on Saturday night. I for one am happy that the Astros didn't win because they're cheaters and they don't deserve to be in the World Series again. I am hoping that the dodgers win, mainly because the Rays beat the Yankees and I don't wanna see them win. But as sad as it was to see the Yank's leave, they'll always make a comeback next year.