Top 5 places you should travel to right now
       With COVID-19 still lingering, people are reluctant to travel. However, vaccination rates are rising and countries are practically begging tourists to visit. Here are the top 5 places that offer breathtaking experiences at an affordable price. 
The Grand Canyon, Arizona
Located in the northwest corner of Arizona and named one of the top five places to travel globally, the entrance fee is only $30 per vehicle. There is so much to see and do at this national park, but the canyon itself is astounding. Countless sight-seeing hikes and campgrounds are open, and more than half of the park is open year-round. When you're not hiking or viewing the canyon, you can go river rafting, take mule trips, and do a guided tour. Another option is to tour Hermit Road; a beautiful 7.5-mile scenic route that winds through and around the Grand Canyon. Currently, it is available only by shuttle buses, which are free. The Grand Canyon national park requires you to wear a mask when on trails, indoor environments, boarding buses, and a few other select places, whether you are vaccinated or not. They recommend you to be on the lookout for signs updating mask mandates. It is recommended to camp in the park to get the "full experience," but if you're not into camping, you can also take your RV to the parking lots in the South Rim of the canyon. Yet another option is to stay at nearby lodges and hotels, which typically charge around $200 per night. Visiting the Grand Canyon is truly a unique, once in a lifetime experience.
        2. Queenstown, New Zealand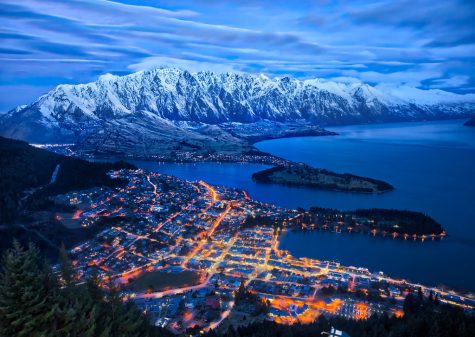 Queenstown is located on New Zealand's south island, with a stunning view of the Southern Alps. Nicknamed the "home of adventure," Queenstown is known for its beautiful views and its fun, family friendly environment. They offer many different experiences, such as art galleries, bungee jumping, several restaurants, tours, fishing, golf, jet boating, scenic cruises, and skydiving. Although New Zealand has a low COVID-19 rate, make sure you are vaccinated before venturing there and follow all the recommendations and guidelines. Queenstown has several overnight options, including Glenorchy Peaks Bed and Breakfast, Hilton Queenstown Resort & Spa, and The Hidden Lodge at Queenstown. Queenstown is known for its adventure atmosphere, and perhaps most importantly, its bungee jumping. Make sure to come ready for an action-filled adventure.
       3. Cancún, Mexico
September 15th to October 15th is National Spanish Heritage Month. It's important to get to know the cultures and interests of the people around us. One of the best ways to do so is to visit a Spanish-speaking country. Mexico is filled with a wide variety of food, people, races, and things to do and see. Cancún is considered one of the best places to visit and is the "heart of the Caribbean". Cancún is famous for its authentic Mexican markets and food, so a few great places to start experiencing Mexico's rich culture would be the Downtown Plaza 28, located in downtown Cancún, Chuchito Perez Cancún, a downtown restaurant, and one of the many white-sand beaches. Cancún is the perfect place to experience the vivacity and colorfulness of life all around us. 
       4. The Great Barrier Reef, Australia 
Imagine snorkeling through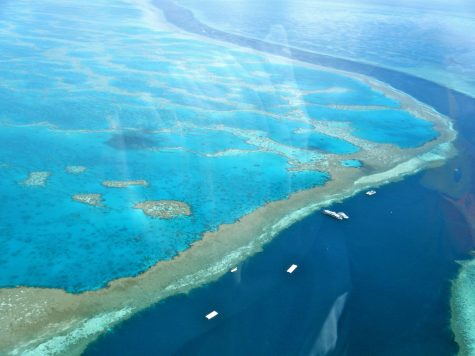 a beautiful coral reef. The water is a clear blue, and marine life lazily bypasses you without a care in the world. Bubbles form as you breathe out, and you are struck senseless by the wonder and fascination of it all. This is not something you'll ever be able to experience again. The world's largest coral reef welcomes you. The Great Barrier Reef stretches over 1800 miles, is home to over 400 different types of coral, and over 1500 different species of fish, including sea turtles over 120 years old. The Great Barrier Reef is home to multiple endangered species (some of which are the Sea Cow and large Green Sea Turtle), and is about the size of Texas split in half; it can even be seen from space. The Great Barrier Reef offers a wide variety of hotels, and accommodations on several islands located along the reef. Unfortunately, 'stinger season' is from November to May, so during those months options like swimming and scuba diving are limited, unless you have a stinger suit. Called a "natural inspiration," The Great Barrier Reef could be the birthplace of your next creative spark.
          5. Capri, Italy
Capri is a beautiful island off the coast of southern Italy. It is home to many natural wonders, a few of them being the Blue Grotto (or Grotto Azzurra), the Natural Arch, and the Mariana Grande. The "three perfect days on Capri" is a well-known and highly recommended experience, and it is the perfect option for someone who is looking for a short but sweet visit. The first day contains a trip to the center of Capri. The town is home to many charming restaurants, hotels, and souvenir shops. Day two consists of a day of relaxation at one of Capri's stunning beaches, and day three is a day of hiking and sightseeing. The three perfect days on the island are not required of course, and you could get the same experience in just one. Taking a boat ride around the island, visiting the Blue Grotto, and stopping for lunch in town is a perfect option, but a little pricey. Whatever you decide, Capri's crystal clear waters will welcome you with open arms. 
Links used: Grand Canyon National Park (US National Park Service) | Queenstown New Zealand | Official Tourism Website | Visit Cancún | The Official Tourism Website for Cancún, Mexico | Great Barrier Reef | Australia's Great Natural Wonder | Capri: All You Need To Know | Boat Tours, Ferry Tickets, Hotels 
The Great Barrier Reef image: File:Amazing Great Barrier Reef 1.jpg – Wikimedia Commons
Queenstown, New Zealand image: Photo courtesy of Trey Ratcliff