Looking Back at 9/11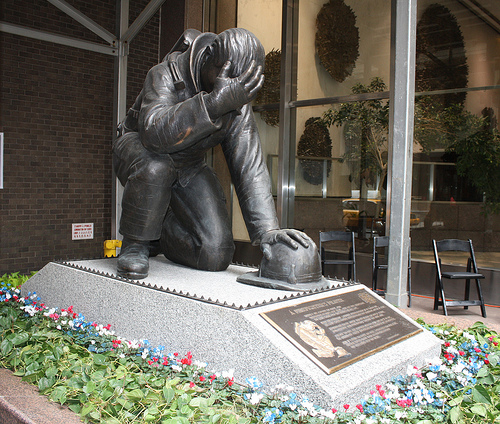 The Plan
In 1996, Khalid Sheik Mohammed met Bin Laden in Tora Bora, Afghanistan, to plot a plan to hijack airplanes and form a massacre in the air. The original plan for them was to target the Twin Towers, The Pentagon, and The Capital. Most of the hijackers were from Saudi Arabia. When they got to the US, some of them received commercial flight training. On the morning of August 29, 2001, Binalshibh was sent a riddle of a cake with two sticks and one stick down. The two sticks represented the number 11, and the one stick down represented the number 9. On September 5, 2001, Binalshibh left Germany for Pakistan to inform Bin Laden of the plan. 
The Action
All of the planes were bound for the west coast. On September 11, 2001, four planes were boarded by groups of terrorists, America was under a terrorist attack. American Airlines flight 11 from Boston crashed into the North Tower of the World Trade Center at 8:46 AM in New York City. United Airlines flight 175, also from Boston, impacted into the South Tower 17 minutes later. American Airlines flight 77, taking off from Dulles Airport near Washington, D.C., crashed into the southwest side of the Pentagon at 9:37 AM. At 9:59 AM, the World Trade Center's South Tower collapsed. At 10:03 AM, United Airlines flight 93 from Newark, New Jersey, crashed near Shanksville, Pennsylvania. Then at 10:28 AM, the North Tower collapsed.
Remembering 9/11
Nearly 3,000 total people passed away from this tragedy. 2,750 people from New York, 184 at the Pentagon, and 40 in Pennsylvania. All 19 of the terrorists died as well as more than 400 Police Officers and Firefighters from trying to save other people's lives rushing into the towers. The day September 11, 2001, will always be known as an emotionally eventful day in American history.