Uncovering the Truth of Cheerleading
Cheer may not be as easy as you think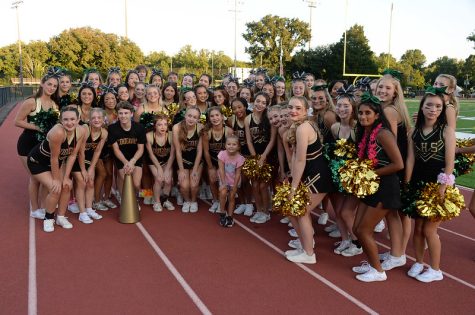 It's the start of the new school year, and along with it comes fall sports. Now, you may think of Football and its players, but what about the women cheering them on? Their jobs are much harder than you think and their schedules are more excruciating than one may believe. 
There are two types of cheer, sideline and competition. Sideline cheer is at the football games, when they are hyping up the crowd, performing stunts, and fun chants. However, the latter, competition cheer, is much more difficult. While it may look fun, and easy, we are going behind the scenes to discover the truth. 
To do this, I interviewed Varsity Cheerleader, Valentina Martinez. 
When asked about the difference between sideline and competitive cheer, Valentina stated, "Sideline cheer is just the stuff we do at games, which we only spend around one hour rehearsing during the week. Competitive cheer is the main reason we go to practice and spend hours practicing almost every day. [Competition Cheer] is a whole routine with stunting, a cheer, a chant, tumbling, jumps, and dancing. Comp cheer is way harder and takes a lot of time and commitment." She also stated, "A lot of people think all we do is sideline cheer, and that cheer is easy, but it's really not. We have 2-3 hours of practice every day. Most people don't even know that we have competitions, so no one ever comes." 
Valentina is most looking forward to the homecoming game. " Everyone is super hype and I love getting ready with my team for the theme and just the entire night is so positive and exciting. I love to see everyone from school there. It feels so magical like a coming of age highschool movie." 
Just like the Oakton Football players, cheerleaders have a pregame routine too. Valentina explains, "Most of us just stay after school, do our makeup and hair, eat dinner, and blast music on my giant speaker. Then we blast some more music and go up to the field and take pictures before the game. A little before the game we warm up and then the game starts. Getting ready lowkey starts the morning off, since we have to wear uniforms and do our makeup for school." Everybody is excited for the hoco game. The players, cheerleaders, students, and even the staff, so bring your cowboy hats ladies and gents.
Although game day might have the sparks flying and fun and exciting cheers and stunts, that's not the reality of cheerleading. Without knowing about the days of long and excruciating practices many people think that under the Friday Night Lights it all looks easy. Don't judge a book by its cover.