Check-in with Oakton Hockey
news and information about the team's 2022-2023 season
   As soon as Oakton's football season ends, student fans are already anticipating the hockey season. However, because of the team's loose association with Oakton high school, the team's schedule and information, along with players and their thoughts about the season, aren't well known.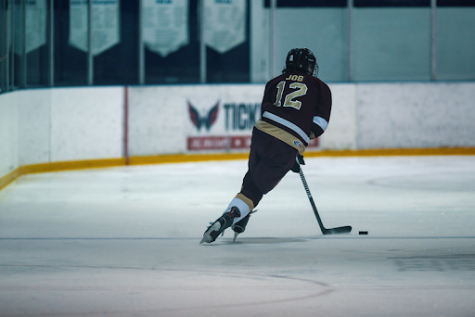 Gavin Rieger (12), was the team's leading goal scorer last season, with "twenty-one goals." Recalling the past season brings his "favorite team memory – making it to the semi finals last year and enjoying that with them." The team is planning to make it even farther this year.  Next year, Gavin (who has "been playing hockey since [he was] six years old) plans to "play a little bit [of hockey] in college, and maybe some men's league later on." He's also still deciding on which college he will attend.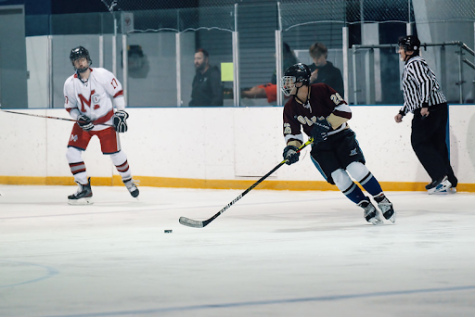 "I'm a big penguins fan, [and inspired by] Sydney Crosby," Gabe Mahan (10), says, who has also been playing hockey since he was "six years old." Along with watching his favorite player, his biggest hockey inspiration is his dad, who "played it as a kid, so it kind of got [him] into it." His favorite thing about the season is the exuberant and supportive student section.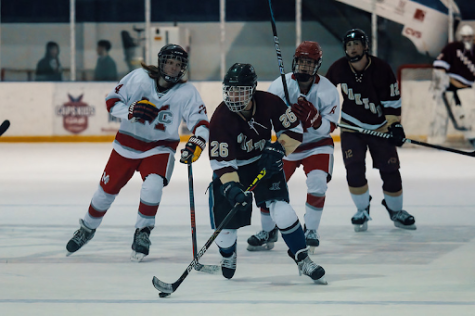 Although hockey is a competitive sport at Oakton, goalie Connor Baker (11) opens up with his thoughts on the team's version of 'tryouts'. "Instead of tryouts," he says, "there's evaluations to see if someone has experience (for safety reasons). There really aren't enough [hockey] players to pick and choose." Although the players barely know each other at first, they must develop friendships fast. The season is long, with only "the regular season [being] 10 games with playoffs at the end. [The team's] first game of the season was on October 28th, and the last regular season game is on February 10th." This doesn't even consider playoffs, which "are usually late February." To continue, unlike most goalies (who start around twelve years old), Connor has "been a goalie since [he] was 7. [He] was a player first, and tried out goalie and ended up liking it." However, being a goalie comes with stress. "The only issue I have with being a goalie," Connor continues, "is the stress from it, because how I play [can] determine if we win or lose."
Overall, the Oakton hockey team is crushing it so far and looking forward to the rest of the season.
Follow their Instagram for updates and tickets:
Oakton Ice Hockey (@oakton_sauce) • Instagram photos and videos
All photos by Oakton Smugmug.