Jocelyn Shortle: The Rising Star of Oakton Volleyball
Oakton's varsity Volleyball team had a stellar season. The team won fourteen out of their nineteen games in the regular season. Winning their first playoff games, the team was playing exceptionally. 
Jocelyn Shortle (11) led the team as junior capitan. She plays on the team as an outside hitter and has played varsity volleyball at Oakton since her freshman year. Jocelyn saw this year as an opportunity to step up – and she did. 
Being part of the volleyball team is a substantial time commitment. With two and half long practices nearly every day (even Saturday mornings), playing volleyball at Oakton is a challenging task. 
Jocelyn's hard work payed off. She was awarded 1st team all-district and 2nd team all-regional. Shradha Gandotra (12) believes that Jocelyn is a primary reason for the team's success. "She's able to remain calm and focused during games… and is the type of player that can bring up the team," Gandotra said. Shradha continued by speaking about Shortle's exceptional work ethic, saying, "she always works hard in practice." 
The team's season ended with a heartbreaking loss to Langley in the regional semi-finals. Jocelyn was incredibly disappointed with the loss as she felt the team had more left in them.
"Last year, we lost to Chantilly three times, so it was important to our team to beat them in the championship this year."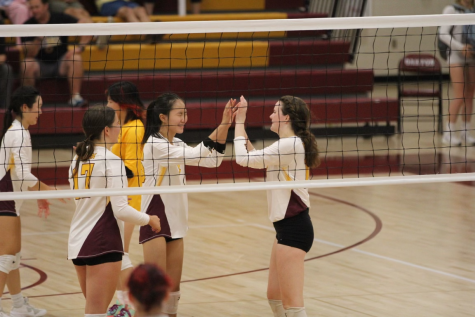 Aside from volleyball, Jocelyn has prospered as a student and has a few tips for juggling heavy school workloads and intense athletics. "There's always a value in organizing your time," she said, "doing the little things that you kind of forget about and time management is a must." She also emphasized finishing work at school and "making sure to utilize cougar time."
Despite the disappointing end to the season, Jocelyn is optimistic for the next year, even predicting that "we will win district championships, and make it to states."
Next year is uncertain for the team, as it is composed largely of seniors. However, with young leaders like Jocelyn, its future seems more secure.