In a rapidly changing world with rapid technological advancements, the digital realm touches nearly every aspect of our lives. One significant transformation has been the transition from the traditional paper and pencil SAT to its digital counterpart. The SAT has been around for decades as a way for colleges to measure students' reading, writing, and mathematical skills. 
The College Board announced early last year that they would be switching the PSAT and SAT to digital forms starting in 2024. This October, students will be experiencing the digital form of a standardized test for the first time with the PSAT. 
One of the main reasons that the college board could increase the accessibility of the test is that fewer students are taking it. Could the college board be trying to make the test seem more attractive to students? Due to the adaptive form, not every student will be taking the same test. While it might seem that the test should be easier at first, if a student notices that their questions are getting harder rather than easier, they might think they are doing badly on the exam. In the past, SAT scores were a crucial part of the college admissions process, but now they carry less weight at certain colleges and universities.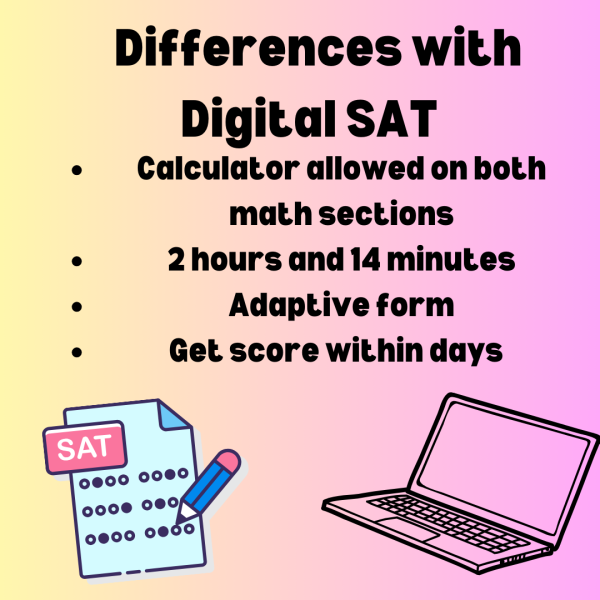 While standardized testing is still an important part of the process, schools now look more at students' achievements and extracurriculars. Adaptive testing may make the exam harder based on some students' learning levels and styles. The change was sudden because the "test has been around for so long, and it's always been paper and pencil," Mr. McClam said. A digital SAT raises a lot of questions surrounding the " time limits and the settings that students are going to be in," explained Mr.Mclam. Regarding how this will affect college admission, the admissions team will have to adapt to a new way of looking at the scores. 
Many changes are currently occurring with the process for current and future high school students. With the affirmative action decision, tests are optional, and now there are new forms of testing. While the relevance of scores is not going away anytime soon, schools are now looking at other factors to determine admission. The transition to the digital SAT may promise convenience and efficiency, but it brings with it a host of concerns and unintended consequences. The digital form raises more questions than answers about its impact on the future of college admission. It's imperative that we carefully consider the repercussions of the shift and strive for a fair and equitable evaluation process for all students.