Thanksgiving Recipes
                    Recipes to make the perfect Thanksgiving dinner
As the crunch of red and orange leaves and the cool comes in, it's clear now Thanksgiving is near. The seasonal and unique recipes are making an appearance including cobbler, cheesecake, and more! Here are some recipes to make the perfect Thanksgiving dinner.
Butternut Squash Cheesecake: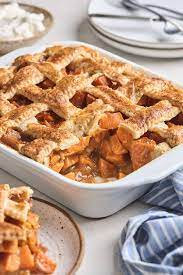 This is one of the best squash desserts to make for something sweet. It has the best flavor and is a unique cheesecake to makes this great for trying to spice things up at Thanksgiving dinner. It's flavorful and allows for ingredient additions to spice things up.
Ingredients:
1 large butternut squash 

softened cream cheese

white sugar

all-purpose flour

kosher salt

maple syrup

ground cinnamon

ground ginger

freshly grated nutmeg

vanilla extract

5 large eggs

heavy cream 
Steps to make:
Step 1: Make sure to preheat oven to 400 degrees F, add oil to a 10-inch springform pan, line with parchment, and set that aside
Step 2: Cut the butternut squash into thick crosswise slices, remove seeds, and then place on the baking sheet
Step 3: Roast in a preheated oven until very soft for about an hour. When cool enough to handle, separate the flesh from the skin, and discard it. 
Step 4: Mash the squash until smooth, measure out 1 ½ cups, and set aside to cool completely.
Step 5: Increase the oven temperature to 425 degrees F
Step 6: Add softened cream cheese, sugar, flour, and salt to a bowl, and cream together with a spatula until very smooth.
Step 7: Add maple syrup, 1 ½ cups mashed butternut squash, cinnamon, ginger, and nutmeg. Mix with an electric mixer or whisk until combined; mix in vanilla. Add eggs, one at a time, beating well after one condition. Stir in cream
Step 8: Pour batter into the prepared springform pan. Tap the pan lightly on the counter to settle the batter.
Step 9: Bake in the preheated oven until cheesecake is almost fully set, 50 to 60 minutes. The center should wiggle very slightly if the pan is shaken back and forth. If the center seems soupy, continue baking for a few more minutes.
Step 10: Remove and let cool for 5 minutes. Run a thin knife between the outside edge of the cheesecake and the inside of the springform ring to release cheesecake from the ring; it will contract as it cools. Let cool for 30 minutes more, then remove the outside ring.
Step 11: Refrigerate cheesecake for a few hours or up to overnight before serving.
Overall, this recipe is great for sweet cravings and for Thanksgiving.
Sweet Potato Cobbler
For something creamy and easy to make, this is great to make during Thanksgiving. This adds a twist to your usual Thanksgiving peach cobbler. It is a great option for people who love sweets since it brings a lot of sweet flavoring into the cobbler. It's also a great vegetarian option. It connects to Thanksgiving by adding food like potatoes and pumpkin to normal foods eaten like this cobbler.
Ingredients: 
6 Large Sweet Potato

Water

Coconut Sugar

White Sugar

Butter

Vanilla Bean Paste

Ground Cinnamon

Ground Allspice

Ground Cloves

Ground Ginger

Cardamom

Ground Nutmeg

All Purpose Flour

4 refrigerated pie crusts
Steps to Make:
Step 1: Place sweet potatoes and water in a large Dutch oven, and place over medium heat. 
Step 2: When steam begins to rise from the pot, add in coconut sugar, white sugar, butter, vanilla bean paste, 1 tablespoon cinnamon, allspice, cloves, ginger, cardamom, and nutmeg. Continue to cook just until potatoes are easily pierced with a fork, about 20 minutes. Turn heat to a very low simmer.
Step 3: Remove about 1/2 cup liquid from the pot to a small bowl and whisk in 3 tablespoons of flour thoroughly until a paste the consistency of thick pancake batter is formed, without lumps, adding additional flour if needed.
Step 4:  Stir flour paste, 1 tablespoon at a time, into sweet potatoes, until sweet potato mixture is thickened and no longer runny. Stir gently until well incorporated. Remove from heat, cover, and allow to cool and thicken for about 15 minutes.
Step 5: Preheat the oven to 350 degrees F. Line the bottom and sides of a deep dish 9×13-inch baking pan with 2 of the pie crusts. Using a fork, poke holes all over the crust.
Step 6: Bake in the preheated oven until the crust begins to turn golden, about 10 minutes. Remove from the oven; do not turn the oven off.
Step 7: Using a slotted spoon, add enough sweet potatoes into the baking pan to generously fill the crust, mounding them slightly toward the center of the pan.
Step 8: Scoop the cooking liquid over sweet potatoes until the crust is full but not overflowing. Set any remaining sweet potatoes and liquid aside for another use.
Step 9: Roll out the 2 remaining pie crusts on a lightly floured surface. Cut into 3/4-inch strips using a sharp knife or pizza cutter. Weave strips into a lattice design on top of sweet potatoes.
Step 10: Stir together 1 tablespoon sugar and 2 teaspoons cinnamon in a small bowl. Sprinkle cinnamon sugar evenly over the pie crust.
Step 11: Return to the oven and bake until the top crust is golden brown and the filling is thickened and bubbly, 30 to 40 minutes.
If you love cobbler and want to make something amazing for your family and friends, this is going to be one of the best to make.
Buttery Herb Stuffing
For something creamy and filling, this is the perfect option. With the stuffing's versatility, allowing changes to the stuffing to fit one's preferences, the addition of this on the holiday menu will be sure to spice up the meal! 
Ingredients:
French or Italian bread

Butter

Onion

Garlic

Celery 

Chopped fresh parsley

Fresh sage

Fresh thyme

Fresh rosemary

Salt

Ground black pepper

Chicken or vegetable broth (your preference)

Eggs 
Steps to make:
Step 1: Take a bread of preference, place it on a baking sheet and toast in the oven at 210°F for 90 minutes, flipping every 30 minutes. This can be done a few days ahead.
Step 2: Preheat the oven to 350°F .
Step 3: In a medium skillet, over medium heat, melt the butter and saute the onion and celery until tender (not brown). Add the garlic, and cook for a minute or until it's scented, then remove from heat.
Step 4: In a large mixing bowl, combine the toasted bread with the butter-veg mixture, and chopped herbs. Season with salt and pepper. Add a cup of stock, and mix everything with a spatula or your hands.
Step 5: Combine beaten eggs with the remaining broth, and add it gradually to the bread. Keep mixing and make sure that the bread is soaked all the way through, and doesn't turn out mushy.
Step 6: Transfer to a 13 x 9-inch baking pan, cover with foil, and bake for 35-45 minutes or until an instant-read thermometer registers 160°F in the center of the stuffing. Uncover the top for 10 minutes or until it's golden and crispy.
In conclusion, these recipes have a lot of flavors and textures. Try a recipe or two and share it with family!