The too good Tigers
Allegations surround the Red-hot, CYA Tigers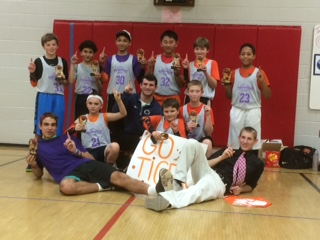 The seventh grade CYA Tigers basketball team are on a roll. Coached by Oakton High School senior, Nate Brodsky, the Tigers are undefeated, winning four games and have broken a CYA record of 250 points scored within a four-game stretch. The Tigers feature the league's best player, Antwon Jackson, who averages almost 20 points a game, as well as other star players. Because of his fun and energetic coaching style, Brodsky's team doesn't look to be slowing down; however, the team's enormous success has raised some eyebrows throughout CYA. Because of the Tigers' loaded roster, some question Coach Brodsky's integrity, and whether or not he told his players to "tank it" at the CYA evaluations.
  "It really hurts me to hear that some would question my honesty and integrity as a coach. While I am a competitor and love to win, the one thing I preach to my players is being good sports and doing things the right way; I would be a hypocrite if I were to say that and do the opposite", Coach Brodsky said when asked about the allegations of his staff cheating.The issue at hand draws major attention, and even led to the league commissioner watching a practice. Brodsky says that he will continue to tell his team to play hard and keep competing. "Assert our dominance" is the team motto, and Coach Brodsky says he will keep reminding his kids that "assertion of dominance is key to winning." He believes that to continue to win, his team has to continue to stay hungry and aggressive.
  Brodsky and his staff of assistant coaches run a high intensity, high-energy program that allows players to have fun while also maximizing their time. The players love playing for Brodsky because he is not far removed from sports himself; Coach Brodsky and his assistant coaches are all Oakton football players. The coaches understand the impact a coach can have on the life of a young athlete; "A coach can positively or negatively affect a young player. Yelling at players isn't going to get anything done. My assistant coaches and I try to make games and practices as fun as they can be, while still having a schedule and teaching the players how to properly play the game of basketball," Brodsky said.
  While major allegations and possible consequences loom over the Tigers, both players and coaches are confident in the team maintaining focus and returning to the championship game at the end of the season. Brodsky hopes that this investigation will end soon, and he hopes that the other coaches can get past "false allegations."