Can The Democrats Really Take The Senate In 2018?
Just over a hundred days into President Donald Trump's administration as his approval ratings hit a historic low, journalists and Democrats alike start to wonder if the Democrats can retake the Senate in 2018 given that they only need to win three states, and Republicans wonder if they can get sixty seats in the Senate. The answer: both possibilities, while not impossibly difficult.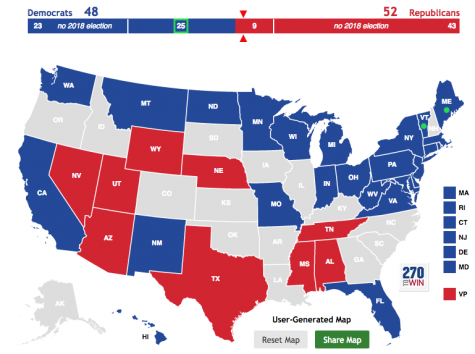 Yes, it is true that there are only three seats needed for the Democrats to win the Senate. But as you can see on the Senate map of 2018, there are 25 Democrats up for re-election, and 9 Republicans up for re-election. Does that mean that the Republicans can gain seats in 2018 if they run well and President Trump's approval rating goes up? A scenario is very plausible, because there are 10 states on this map where Democratic senators are up for re-election that President Trump who won in 2016. If the Republicans held all of the seats they currently hold and scored a pickup in every state that President Trump won, they would have a total of 62 seats in the Senate in 2019 with the map looking as it does below. With the unlikely exception getting 65 states by picking up seats in Maine, Virginia, and Minnesota, all of which voted for Former Secretary of State Hillary Clinton by relatively small margins in 2016, the dream of the Republicans would be to hold all of their current seats and win every state that President Trump won.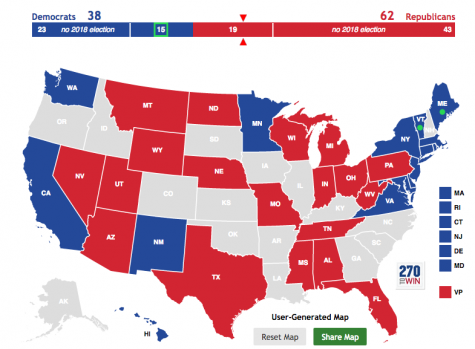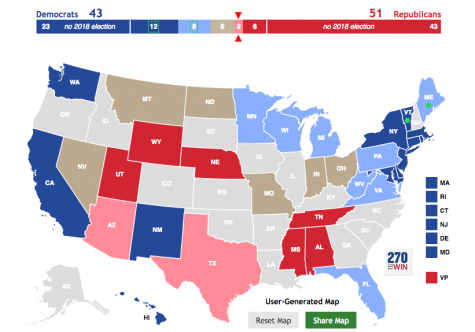 On the map above, all of the dark blue and red states are solid Democrat and Republican states (meaning that I am close to certain that they will vote for a Democratic or Republican senator in 2018), the light blue and states are leaning Democratic (meaning that I predict they will vote for a Democratic or Republican senator but are worth watching) and the gray states are tossup states- meaning that they are too difficult to predict at this point in time. As you can see from the third map below, I have doubts as to whether Republicans win a supermajority (sixty seats or more, meaning they can pass legislation through the Senate without fear of a filibuster). Incumbents in Congress have the "franking" privilege (using government money to provide constituents with good news about their work), and many states which President Trump won, he won by margins of less than 2%, which should give some relief to Democrats, in addition to the fact that midterm elections in the term of a president with a low approval rating tend to be harsh on the president's party.
So, here is the question Democrats want the answer to: can they take back the Senate? Here is the lengthy explanation: All of the light blue states are states that President Trump won by 2% or less or Former Secretary of State Clinton won by 5% or less (except for West Virginia because Senator Joe Manchin has remarkably high approval ratings), and all of the light red states are states President Trump won by 10% or less (Arizona by 3.5% and Texas by 9.1%). In order to win the Senate, the Democrats must hold not only every blue state on the map, but also all of the tossup states where they currently have Democratic Senators. The Republicans will spend money attacking every Democratic incumbent in these tossup states. It is worth noting that in 2012 vulnerable Democrats (Claire McCaskill and Joe Donnelly) won in Missouri and Indiana as a result of very controversial comments made by Republican challengers about rape in those states, and President Trump won both by over 18 percentage points as well as Ohio, North Dakota, and Montana by over 10 percentage points. Assuming, however, that President Trump's approval rating stays low and Democrats win all of the tossup states and Nevada (the one Republican-held seat that Former Secretary of State Clinton won), the Democrats will have 49 seats, meaning they still need two pickups in order to win the Senate as Vice President Mike Pence would break a tie if the vote is split 50/50. Lucky for them they have two pickup opportunities: Arizona and Texas. Given how close the state was in 2016 and Senator Jeff Flake's very low approval rating in Arizona, the Democrats think they have a good shot at winning this seat. Assuming they do, they must defeat Senator Ted Cruz in Texas, which is an even longer shot given that while the demographics there increasingly favor Democrats, and some of their rising stars are challenging Cruz, Texas still voted for President Trump by nearly 10 points. Nonetheless, some experts, including myself, would not rule it out. Hence, is it impossible for the Democrats to retake the Senate in 2018? No. Is it a long shot? Absolutely.
The screenshots are taken from 270towin.com.
About the Writer
Theo Meale, Journalist
A journalist of the Oakton Outlook, hope to be politician, traveller, serious student. Traveling around the world, writing about my experiences, and following...