Gorillaz out the zoo
Hang on for a minute...we're trying to find some more stories you might like.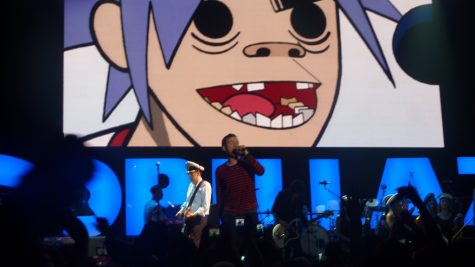 You have probably heard about Gorillaz somewhere on social media, maybe even gotten to hear one of their new songs from the Humanz album, but to many the band is still somewhat of a mystery.
You'd be shocked to find that the band has been around for quite some time, releasing their first album Gorillaz in 2001. It all started when the artist Jamie Hewlett and musician Damon Albarn roomed together. After becoming great friends, they decided to collaborate, creating fictional characters and adding music to their world.
Their first single, Clint Eastwood, won them a great amount of recognition, marking number 4 on the UK Singles Chart and number 57 on the US Billboard Hot 100. Their first album won the Guinness World Record for the most popular virtual band, gaining them a lot of acknowledgement.
Using the fame they got from their first album, they released their second album, Demon Days in 2005. The single, "Feel Good Inc" became a huge hit in the UK and the US, helping them gain millions of fans all over the globe. They were nominated for various different awards, such as the MTV Music Awards, Brit Awards, and 2006 Grammys. To have the fictional characters actually appear on stage for these performances, they began using Musion Eyeliner, a hologram projection screen, to create holographic versions of them to bring to life. They later began doing that for many other concerts. Releasing their third album, Plastic Beach, in 2010. Gorillaz was then asked to perform the song Stylo from the album in Coachella. Sadly, that would be the last album they make for another long seven years.
Of course, on April 18, 2017, Gorillaz came back stronger than ever. Their new album, Humanz, is a reflection of recent turmoil and sense of divide in the country, with the message that "We Are All Humanz". On an interview with BBC Radio 1, Albarns said that "I suppose we were imagining Donald Trump. The album's not about Trump at all, but it was imagining that happening, in a way, that was our dark fantasy. And unfortunately it became reality. It's a party record, a club record. But it's got this weird darkness about it.". Although the album seems influenced by politics, the main message of the album is acceptance of others, and people having the voice and power to speak up for their beliefs.
Although it is unclear if this new album means the Gorillaz are back for good or not, it has gained an enormous amount of recognition, especially from the US, helping them gain even more fans and fame.