Oakton's Playoff Hopes
Oakton's Varsity baseball team is entering the playoffs with hope in their hearts.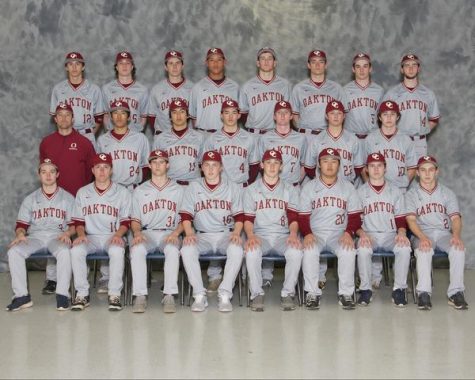 The playoffs are coming up for Oakton baseball which means that the team must work even harder to win each game. This years Oakton baseball team was surprisingly good. After the disappointment of last year, in which the team had its second losing record in the last ten years even with Joe Rizzo, it was nice to see Oakton bounce back and get a bye to the regional tournament. Now that they are there what do they need to do in order to win and get a chance for the state championship. Coach Janis said "We have a very solid team with enough talent to win, but we have to play well in order to win." Coach Janis knows that Oakton needs to play some of the best baseball it's ever played to win.The three main things that are going to allow Oakton to win are hitting, fielding, and strategy.
The first thing Oakton is going to have to do well in is hitting. Coach Janis stated "We are going to have to rely on the heart of our order a lot." The heart of the order he is talking about is Eric Lingbach, Ryan Davis, and Owen Lamon. All three of those guys hit a homer this season and sported a very high batting average. There are a lot of other guys who can hit as well. Cole Wagner hit pretty well this year and he had a walk off single during the season. There are players who can come of the bench and hit as well including Ethan Sullivan who had a three run pinch hit homer against Madison. Oakton has to be able to rely on their best hitters to perform in the lineup, and if they do then Oakton might have an actual chance at winning the state championship.
The second thing Oakton is going to have to do is field. Oakton has pitching and catching all locked up with Toma Shagiki-khan, Owen Lamon, and Seth Richards on the mound and Ryan Davis who was conference player of the year behind the plate. Davis, Lamon, and Toma are all going D1 for baseball and Seth who is only a sophomore will most likely go D1. In the infield Oakton has Jared Kimball at third who is amazing. Eric Lingbach is at short who is also an exquisite player. At second Oakton has Cole Wagner who is extremely talented fielder. Owen Lamon is the usual first basemen but when he is pitching Chris Vinh comes into play first. In the Outfield Seth Richards, Craig Benson, and Will Ripey do a pretty good job, but the could work on their arms and throw accuracy.
The Final thing that Oakton needs to have a shot at a championship is strategy. Coach Janis was awarded the coach of the year for Oakton's conference so he has a lot of ways to stop other teams. When asked about what he would do against great teams he said "It depends on the team if they can hit or they can pitch well, but we've been thinking of solutions to most of these problems." Janis is a man that knows the way to victory is by having a clear cut strategy. He uses his players in different ways to help him win games. Chris Neary, a freshman, is used as a courtesy runner and Janis thinks he's doing a good job he remarked "Chris Neary has done well this year running the bases for us as a pinch runner." Janis uses the freshman on his roster to his advantage. Neary runs while Julien Heitman does some pitching for Oakton. Janis knows he's going to have to be on his best game in order to win.