Winter Athletes Reflect on Past Season
Hang on for a minute...we're trying to find some more stories you might like.
As the pep rally approach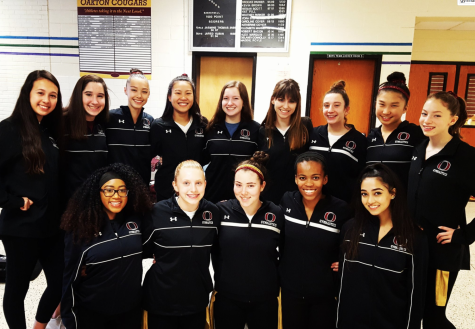 es and winter athletes prepare for their performance, the winter sports season is officially over (except for a few postseason competitions). Looking at the athletes, many may forget that school sports require a tremendous amount of time commitment and effort that is in addition to schoolwork
Sophomore Maggie Mark joined the Oakton Gymnastics team this year being that she transferred to Oakton at the beginning of 2017-2018 academic school year. Reflecting on the past season, Maggie feels she definitely gained more new skills and also improved in form and in confidence. The team bonded through a team sleepover and lunch and were always able to support each other at meets and practices. Everyone one the team (who is able to) has competed at least once this season, and even won first place team at their second home meet! Although gymnastics does require a lot of time commitment, Maggie loves gymnastics because it gives her an escape from the stress of school while still pushing herself to be best she can be. As she is always working hard for new skills and better scores, gymnastics makes her a better and stronger person. Maggie says, "Being on the team has also allowed me to meet new people and get to know Oakton better after moving from South Lakes High School." She did best at her districts meet, where she exceed her goal of 30.00 all around score. She competed and used new skills on almost every event at the meet, such as flyaway dismount on bars and front tuck dismount on beam. As the season comes to an end, Maggie expresses that although she feels relieved, she is upset. "I am enjoying the break from competing every week and practicing every night and balancing my school work but I also miss seeing my teammates at practice every night and the feeling of improving and getting stronger." Reflecting on the season, Maggie said she feels she could've handled the stress better by building up her experience to build up her confidence before competitions. Overall, her goal this season was to get more experience competing, to get new skills, and to make new friends, which she felt she definitely achieved and knows she can improve more next season.
Apart of the swim team, Leaya Ma felt this winter season went reasonably well for her considering that she's recovering from a surgical injury. She didn't go all the times that she wanted to go this season but she's still content with the results. "The team did phenomenally well this season and we got some outstanding and talented new swimmers that really brought the team to a new level which was incredible too." The girls swim team was able to get second place at regionals and all the girls who made it to regionals qualified for finals. Leaya says she's been swimming for such a long time that it's a part of her identity. "It's also very stress relieving and keeps me in shape which makes me feel good each day. The team at oakton is also so much fun it's worth the time." The girls swim team did well at every meet (they won all duel meets but one) and Leaya says the meet against madism was the most motivating. She feels that she could've gotten better at staying positive after bad swims and hard practice. Her goal at the beginning of the year was to make it back to postseason meets and she achieved her goal.
Winter athletes face challenges continually throughout the season and react to them differently, however we see them do amazing and represent Oakton in a great manner.

About the Writer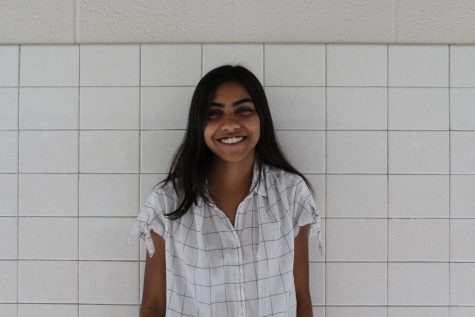 Riya Jain, Editorial Board
Hi! My name is Riya Jain and I am a junior on the editorial board for the Oakton Outlook. I love to write features and about the arts and entertainment...