Pumpkin Spice and Everything Nice
How seven products in autumn's quintessential flavor stack up.
Fall brings more than just colorful leaves; in the past few years, each autumn season has also brought a plethora of new pumpkin-inspired products. These pumpkin spice products have evolved from the latte to include everything from bagels to chips to hand soap (yes, even your hands can smell like pumpkin spice now). There are so many options that it can be difficult to figure out what is worth buying, or what will actually get you into the fall spirit. If you are overwhelmed by the options, you've come to the right place! Before taking a trip to Target to stock up this autumn, read reviews of seven pumpkin food products below.
Pumpkin Spice Nature Valley Granola Bars
Fall Flavor: 6/10
Overall Taste: 7/10
These taste like classic crunchy Nature Valley granola bars, with a touch of cinnamon. That touch of cinnamon was the only indication that these were pumpkin spice. If you ate one of these unpackaged, you would probably assume that it is a plain or Oats and Honey flavored Nature Valley bar. Still, it is a solid granola bar, and okay to share with your non-pumpkin loving friends.
Little Debbie Pumpkin Spice Rolls
Fall Flavor: 4/10
Overall Taste: 7/10
"It tastes like marshmallows, not fall," said Abigail Williams (11). These Little Debbie rolls are a good treat if you're looking for something purely sweet. If you want to get in the fall spirit, however, these aren't going to help you. The pumpkin spice was overwhelmed by the light and creamy filling (not that that is a bad thing!). It was tasty, of course, because it is cake, but not outstanding in its fall theme or overall flavor.
Pumpkin Pie Halo Top Ice Cream
Fall Flavor: 10/10
Overall Taste: 9/10
Out of everything tested, this tasted the most like pumpkin and the warm spices we associate with it. It felt like someone melted down a pumpkin pie and froze it into ice cream, and it was delicious. If I didn't know better, I wouldn't have realized that it is the special, supposedly healthier, ice cream brand that boasts protein and fewer calories than the typical pint. If you like pumpkin pie and ice cream (who doesn't?) than you should try some for yourself.
Pumpkin Puffins Cereal
Fall Flavor: 9/10
Overall Taste: 8/10
This cereal has the taste of real pumpkin and is bright orange, so it's the perfect way to start your day by getting into the autumn spirit. It tastes less cinnamon-spicy than the other products (because it is not specifically pumpkin spice flavored), but the pumpkin really comes through. It has a unique, more earthy taste than the typical artificial pumpkin flavored treat, so it is not for everyone; the texture, too, can be off putting for some. "It tastes like pumpkin spice pirates booty and not in a good way," said Noah Walker (11). On the other hand, I enjoyed it. This cereal is perfect for anyone looking to get into the fall spirit who likes the earthy taste of real pumpkin.
Pumpkin Spice Swirl Bread
Fall Flavor: 6/10
Overall Taste: 7/10
At first, this doesn't taste like pumpkin spice, just like a piece of cinnamon raisin toast, minus the raisins. After a minute, those other spices hit you, but it's still pretty faint. This was tasty, and makes a great breakfast when toasted, but overall it didn't have much pumpkin spice. If you like the classic cinnamon raisin bread, then you should try this fall flavored variation.
Pumpkin Spice Milano Cookies
Fall Flavor: 7/10
Overall Taste: 9/10
It's a Milano cookie, so of course it's delicious! The spice flavor is strong enough (and the filling is orange enough) to give off fall vibes. However, its pumpkin spice and chocolate combination tasted a bit odd to me; then again, I'm not the biggest fan of the pumpkin-chocolate combo in general. So if you like Milano cookies and pumpkin chocolate chip bread, than you will love these cookies!
Pumpkin Spice Greek Yogurt
Fall Flavor: 7/10
Overall Taste: 3/10
Pumpkin Spice has officially gone too far with this product. I couldn't get through more than two bites, and my first thought was that it kind of tasted dry, which is odd for yogurt. It tasted strongly of warm spices, but the spices didn't go well with the greek yogurt flavor at all. If you are a hardcore greek yogurt fanatic, this might be your cup of tea. Otherwise, run far, far away.
Hopefully this helped you decide which pumpkin products you will try to get in the autumn spirit this year. Have a happy, pumpkin-filled fall!
About the Writer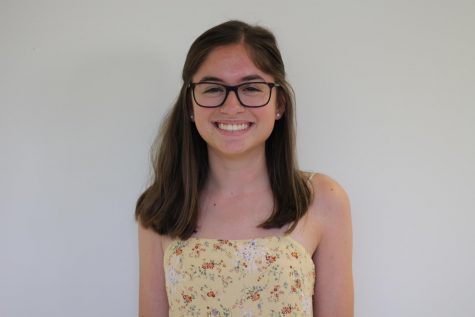 Olivia Garrone, Editorial Board
Hi! My name is Olivia Garrone,  I'm a senior and a member of the Oakton Outlook Editorial Board. I love writing A&E articles and features on the Oakton...