Improv! Improv! Improv!
The Oakton Improvables Back in Action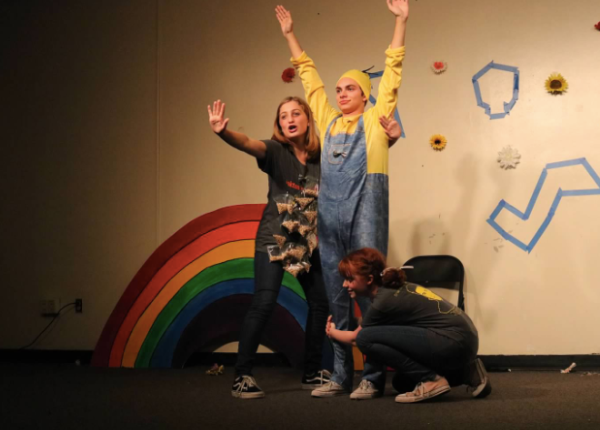 After tryouts on September 12th and 13th and callbacks on September 20th, the Oakton Improvables are back and they're preparing for another amazing season!
  Improv is a very "splur of the moment" type of theatre, requiring the actors to be creative and quick on their feet. Rather than using scripts, like plays or musicals, improv is based off an improvisation game that the actors use to create content.
  The team meet weekly to practice for shows and prepare for competitions. Some of their practices are open for an audience and others are private, usually when getting ready for a show. Their next open practice is October 24th. In addition to practicing as a group, they also go watch other performances to broaden their understanding of improv.
  This year, they are run by two captains, Max Branciforte(11) and Carolyn Best(12). Mrs. Gelinas, the drama teacher, also works with the Improvables by helping with shows and booking space.
  Mattie Shannon(10) joined the team her freshman year after she went to watch a show in the 8th grade. "I loved the show so much and wanted nothing more than to be apart of what I got to see. Beginning of freshman year, I was always on the lookout for anything regarding improv tryouts, and I'm so lucky to have made it. It's even better than I had hoped," she said.
  The Improvables have built a sense of community for each other. Shannon said, "My favorite part of being on the team is being a part of the family. Last year was my first year on the team and the hardest year of my life but improv stuck by my side and made sure I got through it," and she continued on to say, "I think being a part of improv is the best thing I could do in high school."
  You don't have to be a member of the improv team to have fun. A fan of the Oakton Improvables, Anne Mitchell(10), said her favorite part of watching the improv team is "getting to see all of their wild minds come to life." 
  To stay updated with the Oakton Improvables, you can follow them on Instagram(@oaktonimprovables) or Twitter(@OHSimprovables) and visit their website www.oaktondrama.org/improvables. You can go watch their first show of the season at 7:00 P.M. on October 12th in the Oakton High School Auditorium. Admission is free!